Student Spotlight: Gabby Garmo – A Californian at Heart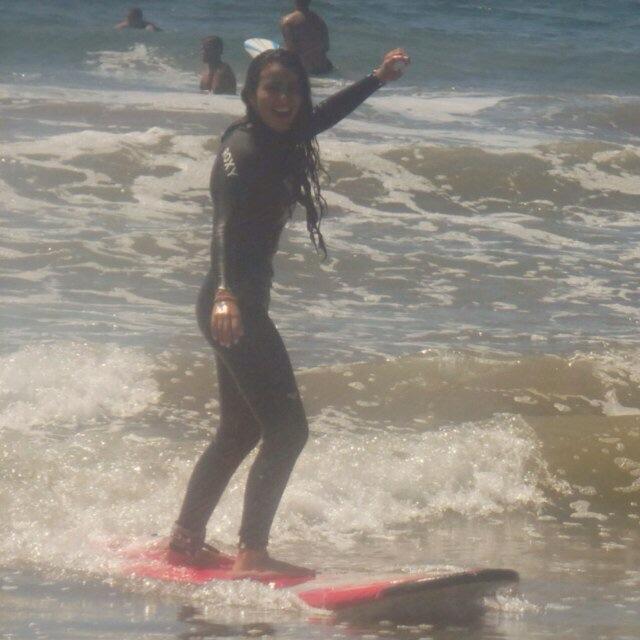 Some students dream of attending college in states far away from home, but naturally end up fearing the prospect of leaving their family members and friends behind. Leaving the state that you grew up in is not easy, but senior Gabby Garmo is willing to take the risk in order to pursue her dream of studying sports medicine in her favorite state, California.
Why California? For Garmo, the state encompesses all of the things she is interested in pursuing.
"I feel like there are more opportunities there for me," said Garmo. "I also love the weather, and would like to pursue surfing."
Surfing is a sport that Garmo picked up at the age of 11. She recalls that people would watch in shock as she picked up the technique fast. She later began entering competitions and now attends some in Florida when she has time. Surfing is embedded in the culture of California, a fact that Garmo appreciates.
"Surfing is the only thing that really relaxes me and gets everything off my mind," said Garmo. "It's my true peace."
Having applied to numerous schools in California, including University of California Los Angeles, Berkeley, San Diego, and Santa Barbara, Pepperdine University, University of San Diego, California State, and Loyola Marymount, Garmo is now anxiously playing the waiting game on admission decisions. No matter which school she ends up attending, she plans on studying sports medicine, with the eventual goal of working for a professional NFL sports team.
Garmo's interest in sports medicine stems from her roots in athletics and knowledge of hockey.
"Out of the numerous sports I've played, hockey was my favorite, even though it was the one I had the most injuries in," said Garmo. "I want to be able to help people like I was helped. It's very meaningful to me."
Garmo isn't ignorant of the large distance between Michigan and California, and knows that it means she will be far from family and friends. In her eyes, it is all the more reason to come back and visit often, and she has been mentally preparing herself for this feat for years.
"My mom even talks about wanting to move out to California," said Garmo. "It may or may not happen, but I'll always come back to visit."