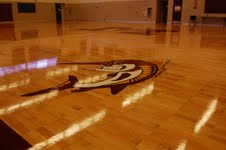 Mercy has once again opened its doors and a welcomed a new school year. Along with the new faces of freshmen and transfer students, there are many new changes.
One of the most noticeable changes is the Tech Office. While it was once situated in the E hall, it has been moved to the Media Center. The new office is conveniently close to classrooms, and a simple walk from the library, there is a compromise with the amount of space.
This decision to move the Tech Office was discussed for a long period of time, and the move has been both positive and negative for media specialist Katy Koskela. She is happy with the move, and now can ask Mr. Banks and Mr. James, the tech specialists, for help when the printers fail. However, she also admits that it has been an adjusting period.
"[Mr. Banks and Mr. James] are nice and funny guys. The four of us get along well," said Koskela. "It is just an adjustment because we have so much more activity in the office and lost some privacy."
The old Tech Office is now the new jewelry room. Art students seem pleased with the switch, since jewelry and pottery do not have to share the same room anymore.
This summer new state-of-the-art microphone and speakers, a projector and screen were installed in the Media Center. Mrs. Koskela explains that these new additions will help speakers in clubs that meet in the Media Center and will benefit the staff during their meetings.
Many students may have noticed the shiny, new gym floor or the updated two-screen PC computers. Although these new additions and updates have many positives, most students say the most essential addition, air conditioning, should be the school's top priority.
"Honestly, I think the old gym floor was perfectly fine," said senior Miranda Kargul. "Everyone would much rather have air conditioning."
Fortunately, Mercy will install air conditioning in the gym, auditorium, Media Center and cafeteria next year. After so many years of waiting and anticipation, students are eager for the change.
"I am so happy," said junior Katie Rizik. "Finally! I'm literally overjoyed."