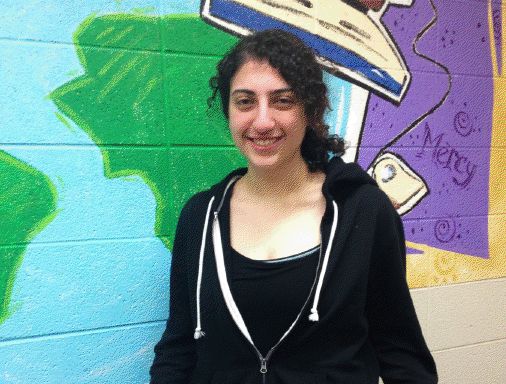 It's no secret that the Mercy blackboards are cleaned every night. However, who does the cleaning might come as a surprise to some. Cleaning the blackboards is a paying job that's taken on by Mercy students every year like Adrianna Haddad.
"I go every day after school, get the buckets from the kitchen area with [Emily Poppenger], and fill them up. We do the English and Language hallways together," said Haddad. "English is technically mine, but we do both."
Haddad and a team of students wash the boards in every hall after school every day.
Haddad had decided over the summer that board washing would be a job she could do while keeping her schedule free for homework and other activities.
"On the first day of school I went to the front desk," explained Haddad, "and they said go to maintenance, and they said go to the kitchen, and they said to sign this paper. All that go here go there, do this, so I did!"
Haddad admits that the job takes practice to get the job done right.
"There's a specific technique, definitely. This is the first year with sponges and a squeegee, so you have to do two rows. One after the other, because if you do the whole board and then squeegee, it turns out streaky. It's an art," said Haddad jokingly. "And don't forget to wipe the tray!"
Haddad has been doing this all year, and confesses that she likes the job, although it is time consuming. But to her, the pay and the company makes it all worth it.