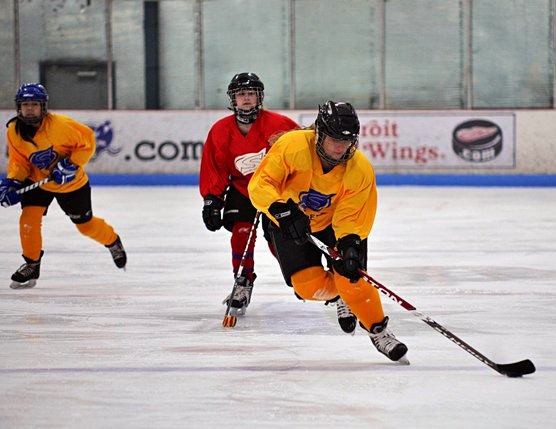 Junior Emma Zeumer has had an outstanding season on the Mercy Varsity Ice Hockey team.  Despite getting a late start with the sport, she has been very successful and has even played at the Joe Louis Arena.
Q: How long have you been playing hockey?
A: I've been playing for four years. I am finishing my 3rd season with Mercy and I played for a year when I was in 7th grade.
Q: How did you get your start in hockey?
A: Oddly enough, I started playing when I lived in Arizona. It was really hot, but when I realized I have the swimming abilities of a cat, I turned to hockey as the next coolest sport. 7th grade is really old to start hockey though, so here I was, awkward and tall in my 12 year old body, made even bulkier by my poorly sized pads, in the learn-to-skate classes with a bunch of 6-year-old boys who barely stood taller than my hip. I played on a House team for a year, embarrassing myself every time I stepped on the ice by my hulking stature, missing every pass and tripping over the blue line, and red line, and the goal line, and my skates, and little kids.
Q:What position do you play?
A: I play defense. I'm a lefty, but I switch which side I play depending on who my D partner is.
Q: How has this season been going for you?
A: This season has been going pretty well. We are back to back Catholic League champs! And this this year the CHSL game was at the Joe, so that was really cool to be a part of. If everything goes as planned, we should go into the Championship game as the first place Division 2 team!
Q: How did you enjoy playing at the Joe Louis Arena?
A: Playing at the Joe was amazing! Getting on the ice that so many hockey legends have skated on was fantastic. It wasn't our best game, but I think everyone could feel the energy of where we were.
Q: Do you feel prepared for the upcoming State Championships?
A: I believe so. We have been working so hard for this for the past two years. I think this year is the year! We've learned everything we can in the past four months, and I am sure we will go out there and play our hearts out, leaving it all on the ice.
Q: What does the team do to get excited before a game?
A: Before most games we have a unity at someone's house, which is just us hanging around eating too much delicious pasta, bread and salad. It's great… until we realize we now have to skate for 45 minutes. In the locker room we have speakers and play pump up music as loud as we can. For home games, we have a really good soundtrack to warm up to, getting us even more hyped on the ice.