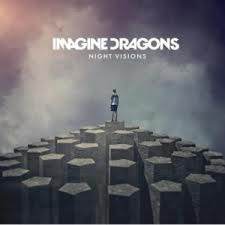 With all the Christmas songs circulating on the radio waves this season, a new breakout band seems like the perfect way to get those carols out of your head. Imagine Dragons is just that. Their new album, Night Visions, is sure to be a new favorite.
Imagine Dragons is a alternative group that had their start in Las Vegas. The album is filled with electronic sounding beats mixed with strong vocal leads.The album is filled with a mixture of darker and more emotional songs, along with a lighter energetic sound.
Their biggest selling single, "It's Time", piqued interest when it became the song in the trailer for the movie The Perks of Being a Wallflower. The song is filled with harmonious chords, yet it still retains a pop feeling that is bound to make you get up and dance. The meaningful lyrics echoed in the song are disguised by its upbeat sound.
Their single, "On Top of the World" is filled with a light and airy chorus, along with the background of drumming, giving the song an almost Bohemian feel. It is bound to brighten your mood with just one listen.
In contrast, two other songs featured on the album, "Radioactive" and "Demons", are filled with a darker style with heavier base and an almost dub-step feel. The lyrics also bring a darker meaning. While "Radioactive" explores lyrics and sounds of the new age, "Demons" experiments with a more vocal approach and darker tones.
Night Visions is truly a combination of different sounds and feelings. This up and coming group is sure to stick around for years to come.