A life dedicated to volleyball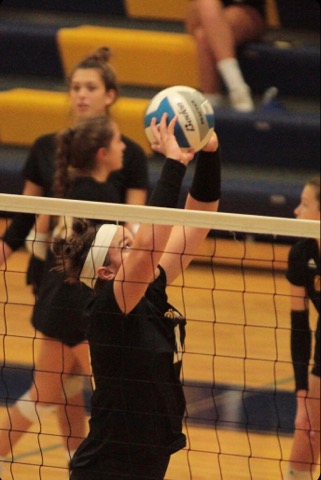 Senior Julia Bishop has a pretty hectic life for a teenager. Her life revolves around school, Student Government and most of all: volleyball. Volleyball has been an important part of Bishop's life since she was in the third grade. Her middle school team was in need of more players, so they asked Bishop to join and soon after, she fell in love with the sport. Her middle school team inspired her to join a travel team, and soon she became an incredible athlete. 
After playing a sport for so long, it begins to shape someone and become a part of who they are. For Bishop, volleyball has become an everyday part of her life.
"Volleyball has taught me so much about myself and made me more independent," Bishop said. "I had to start the recruiting process by myself when I was only 12." 
She has been on Mercy's varsity volleyball team since she was a freshman, and this year is one she has anticipated throughout her whole highschool career. However, with coronavirus, her long awaited year has become much more different than she imagined. 
"Obviously, we can't have fans, so that's been a huge adjustment because I've waited for my senior year season for so long, and now people can't even watch," said Bishop. "At least we're playing though; it could be worse."
COVID-19 has truly impacted the sports realm, especially in Michigan. There were doubts if any teams would even get to play and if uncommitted athletes would have a chance to commit. However, last year, Bishop committed to play volleyball at Michigan State University (MSU), which also was slightly affected by the pandemic. 
"The only thing that has really changed is that I can't take my official visit right now, which is sad because it's such a fun time," said Bishop. "I would have gotten to be with all of the other commits and go to all of the MSU games, but not anymore."
Overall, volleyball has made Bishop who she is today and will continue to shape for the rest of her life.