New decade, same rivalry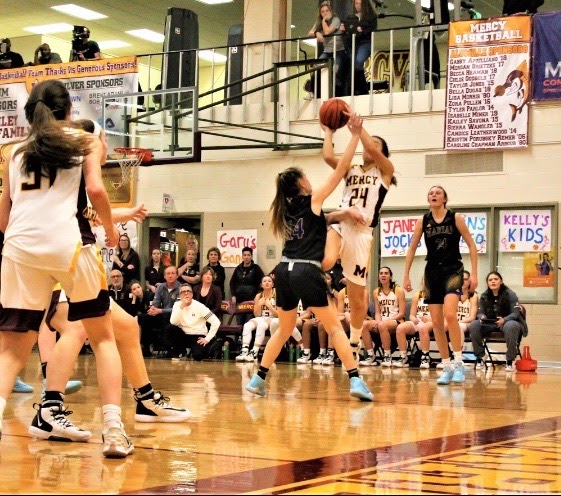 "Start the bus, start the bus!" Chants were heard throughout the gym on January 7 as Mercy Varsity Basketball (MVB) played rival Marian High School. The long time rivalry was even more hyped up this season as a whole student section came out to support MVB on their mission to sting the Stangs. (See photo gallery below.)
The game started out pretty slow as the first points were not scored until about six minutes into the first quarter, however, Mercy showed their skills from the very start, scoring the first points of the game. The back-and-forth nature of the game proved how well-matched the teams were, which reflected the expected tough competition.
Mercy showed great skill on both the offensive and defensive sides of the court. Mercy trailed behind Marian for a short time during the first half but managed to regain their lead before halftime. At halftime, Mercy led 22-19.
During halftime, spectators were entertained with great performances by both the Mercy Varsity Dance team and the Mercy Varsity Pompon team. The impressive, upbeat performances reflected the mood of MVB's great playing.
The third and fourth quarters brought a change in the direction of the game. Mercy took the game back into their hands and gained a substantial lead on Marian, which lasted until the final buzzer.
Marian had a very well-versed team as well but proved no match for the power of MVB. Despite efforts to get back into a competitive scoring range, Mercy held out their hard-earned lead.
With about a minute left of play, Mercy players and coaches made a great decision of running out the clock to be certain the lead would be held. Compared to the tight game in the first and second quarters, Mercy proved their might and defeated Marian with an impressive 46-34 score.
The rivalry still stands with Marian, as would be expected, but MVB has a huge win under their belt and really displayed their true playing ability during the second half of the game, all with the added bonus of stands full of supportive students, parents, and spectators alike.
Story: Keiley Black, Promotions and Social Media Editor; Photos: Julia Canty, Associate Editor-in-Chief