Match point: seniors bid farewell to tennis
Mercy Varsity Tennis senior captains reflect on the past four years of success, memories, and matches.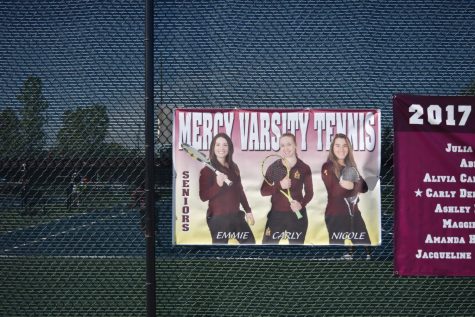 "Amazing," "family," and "passion" are the three words that senior captains Carly Demkowicz, Emily McCann, and Nicole Meek would use to describe their experience playing Mercy tennis.
Demkowicz, McCann, and Meek are the only seniors on the team and have been playing tennis together since they were freshmen. Having four whole years of bus rides, inside jokes, and laughs, the girls are incredibly bonded.
"We have really grown as players and friends," said McCann with a smile. "With practices every day after school, we sure spend a lot of time together, which is great because we get closer and closer."
Meek agrees. "We challenge each other, we joke on each other, and we really depend on one another for motivation and support."
The rest of the team looks up to their senior leaders tremendously. "The seniors definitely bring a sense of welcoming, fun, and supportive energy," said junior Abby Bush.
Sophomore Natalie Zielinksi admires the captains and their determination and effort. "They include everyone and really make everyone feel a part of one big family."
The Mercy Varsity Tennis (MVT) team's record stands at 6-4, with regionals on Friday, May 19th and the state tournament picking up in early June. MVT finished third place in the Catholic League Championship tournament last weekend.
"The season is going pretty well!" said Demkowicz. "Everyone is really determined and never gives up. It's really awesome to watch the matches unfold."
With every match and tournament comes different competition and challenges. MVT's main focus this year was to compete with every team and advance as far as possible in the state tournament.
"I'm anxious and hopeful for this year's tournament," said Meek. "We truly have been getting better and better with every week, so I'm optimistic. I want to go out with a bang."
With their time dwindling down and the season nearing an end, the seniors specifically are catching some nostalgic feels.
"It's starting to hit me that my days of playing tennis are ending," said McCann with a slight tear in her eye. "The memories and friends I've made through Mercy tennis will stay with me forever, I'm sure of it."
Advice for the younger players? "Enjoy your teammates and enjoy the game. Make every moment last, because it sure flies by," said Demkowicz.
Come out and support your Mercy Marlins on May 19th at noon at Livonia Churchill and Stevenson High Schools as they compete to achieve a regional title.