MVH: New season, new head coach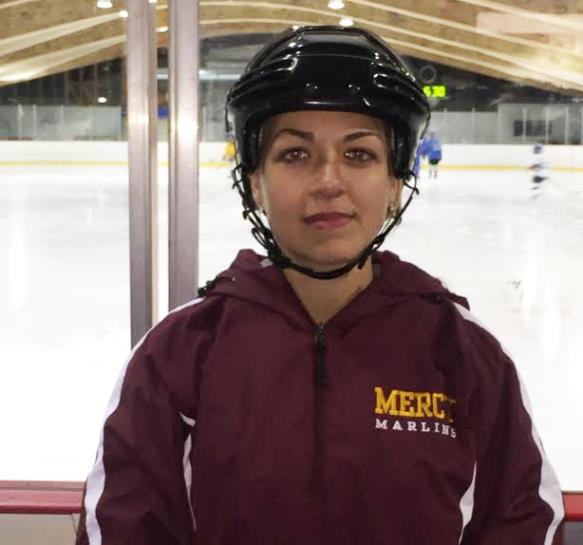 This fall was full of changes for the Mercy Varsity Ice Hockey team. Besides losing teammates, gaining new ones, and moving up a division, head coach Joe Jones resigned and assistant coach and math teacher Valerie Sosnowski stepped into his shoes. Newsprint spoke with Mrs. Sosnowski about the changes.
Q: What was your initial reaction to finding out you got the job as head coach?
A: I was honored and very excited to work with this great group of girls.
Q: What is your background in hockey? What are your qualifications for the job?
A: I started playing hockey in 1997, coed house hockey. I switched to girls 15U AAA for 2 years, then 3 years in 19U AAA; the age divisions were different back then. The highlight of my playing career was going to the Division I National Championship in Alaska in 2002. After high school, I transitioned from playing to officiating. I officiated the National Championship tournament from 2005 to 2011 for youth, women's, and college hockey. I officiated Women's College Division 3 and Division 1 hockey for the Central Collegiate Hockey Association (CCHA). I went to national training camps in Lake Placid, NY in 2005 and 2007, CCHA training camps in 2007 and 2008, and District Officiating Camp in 2010. I started working at Mercy and joined the hockey coaching staff in 2013. We won the Division 2 State Championship in 2015 and moved to Division I this year.
Q: What are your goals for the team this year?
A: My goal is to prepare the team to win every game, for the student-athletes to work harder than they've ever worked before and have more fun than they've ever had before.
Q: What will you bring to the team? Any changes?
A: We have a great foundation, which I will look to build upon to continue our success.
Q: What are you most excited for this season?
A: I am excited to see the strides we can make as a team from where we are now to where I see us at the end of the season.
Q: Having been on the coaching staff the past two years, what has been your favorite part about coaching at Mercy?
A: My favorite part about coaching was watching the girls join together and cheer their teammates and their friends on. For example, when a girl scores her first goal and everyone is excited for her. That's my favorite thing.
Q: Do you think that being a teacher will factor into your coaching style?
A: Teaching and coaching are very similar and complementary. Coaching has made me a better teacher and teaching makes me a better coach. There are many advantages to being both a coach and a teacher. I get to see the student-athletes in and out of the classroom and on and off the ice.