Conn competes for 'athlete of the week' title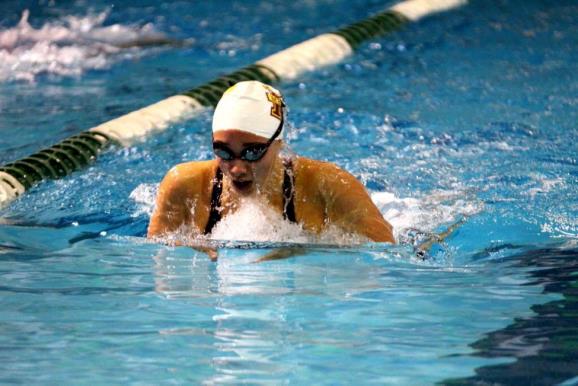 Nine practices a week. Six afternoon practices, three morning practices. Workouts, countless hours traveling, school, family, and friends. The life of a swimmer at Mercy High School is not easy, but senior Ellyse Conn surely does it well, as she has been nominated as a candidate for this week's metro Detroit-based Observer & Eccentric athlete of the week.
The O&E mentions Conn's performance in the pool, highlighting her 200-yard individual medley and 500-yard freestyle 1st place medals in last weekend's Oakland County Championship. Yet last weekend's medals are not what Conn is most proud of.
"My greatest accomplishments are the friends I have made and the relationships that will last a lifetime," Conn said. "Also, I would consider one of my accomplishments being able to compete at a national level."
Conn said the biggest challenge swimming poses is having to manage her rigorous schedule.
"Sometimes I have to sacrifice hanging out with friends to go to a meet or practice," Conn said.
Next fall, Conn hopes to be swimming at either Ohio State, Purdue, or Indiana University.
Visit http://www.hometownlife.com/story/sports/high-school/2015/10/05/vote-oe-athlete-week-sept-oct/73421148 to vote for Mercy Senior Ellyse Conn for this week's athlete of the week. Voting closes on Thursday, Oct. 8 at 7 p.m. There is no limit on how many votes can be submitted.
"I would like to thank everyone who [has] voted for me," Conn said. "It means a lot!"