Basketball finishes a successful season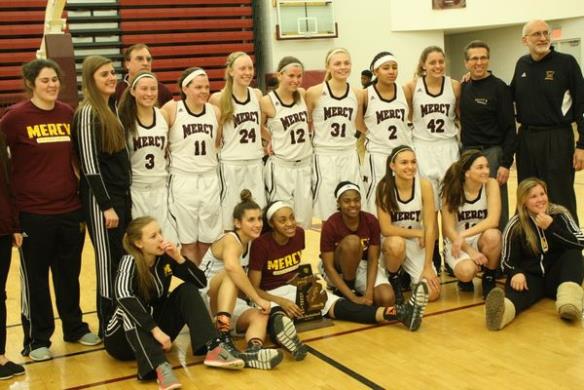 After a successful year, the Marlins lost to Marian in the regional final game by a score of 49-33.
The team finished their 2014-2015 schedule with an impressive record of 20-5, with three of those losses coming to Marian, who is the current #1 ranked team in Class A. The Marlins also clinched a District title this season with a stellar 60-43 win over Detroit Mumford.
"A lot of people underestimated our team this year, but honestly I think we did really well," said senior co-captain Taylor Jones. "No one thought we would win a district championship, let alone win more than 15 games."
The team's five seniors will graduate this year:  Taylor Jones, Sierra Wangler, Bridget Lyons, Kailey Savona, and Jordan Johnson.
"Although I suffered a knee injury this year and couldn't play, I had such a great time playing basketball at Mercy," said Lyons. "It is definitely something I will never forget."
Despite losing much of its veteran team last year, the 2014-2015 varsity team surprised many by beating talented teams such as Goodrich, Divine Child, and Salem.
"This was a very good year for us," said Coach Gary Morris.