Suh takes his talents to South Beach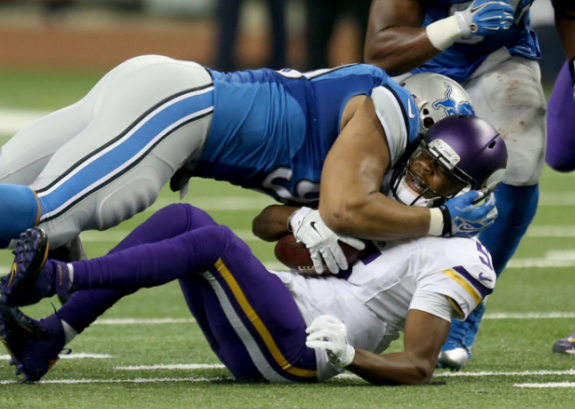 Ndamukong Suh is making national headlines again this week, but not for stepping on opposing team members during a game this time.  Although marked as a notoriously "dirty" player, Suh is also renowned for his status as a gifted defensive tackle.
The Detroit Lions decided to not apply the franchise tag, and Suh will become a free agent when the new league year starts.  Suh will be hanging up his Lions jersey and will be donning a Miami Dolphins' one for the upcoming season.   Suh will be paid approximately $114 million with $60 million in guaranteed money.
If the Lions kept Suh on the roster, their ability to pursue free agents to fill holes that plagued their last season would have been severely limited.  In addition, the Lions will have the money to chase athletes.  A possible player that the Lions may pick up is Darrelle Revis.  He would most likely improve the Lions secondary that has often struggled, especially against "pass-happy" teams like its division rival the Green Bay Packers.
"I think it is a mistake for the Lions to let him go," said junior Taylor Lombard.  "Suh is a talented defensive player and the Lions' defensive line will suffer without him next season."
With the departure of Suh, the Lions are, indeed, losing a monumental piece of their defensive line.  Suh definitely was able to create intimidation on the field and was fundamental in opening plays. However, his departure may be more helpful than harmful for the Lions' reputation.  Throughout his short career, Suh has incurred eight fines and two suspensions due to violations of player-safety rules.
The one blatant downside of Suh signing with Miami is that Miami is not a legitimate playoff contender whereas the Lions are at this point.  Suh will most likely bolster the Dolphins and ensure their playoff contender status in the future.
"Defense wins SuperBowls and offense brings in tickets," said Lombard.  "I had hoped to see Suh in the playoffs with the Lions, but I hope to see the Lions in the playoffs even though Suh is no longer on the team."
Although Suh is hanging up his Lions jersey, he will be meeting his old teammates in the new season on the field as a Miami Dolphin.