Strong Start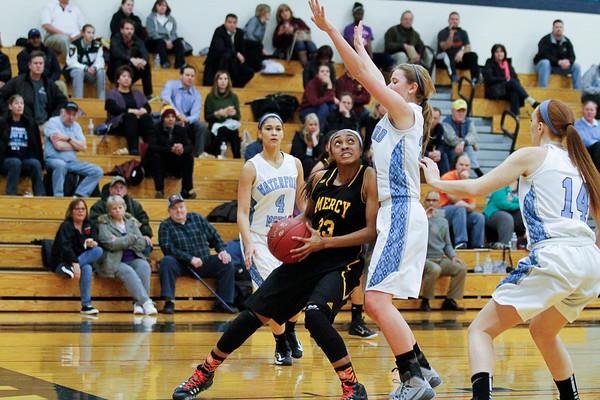 The varsity basketball team started off their first week of non-conference play strong, despite having a young and inexperienced roster.
"Although we only have three returners from last year, I think that as a team we have played hard and together," said junior Zora Pullen. "It's not easy playing in high pressure games like that, but our team definitely learned a lot from them."
The Marlins won two nail biters this past week, beating Waterford Mott 55 to 53 on Tuesday, and Salem 49 to 46 on Friday. Lead scorers for the Mott game were Taylor Jones (22), Zora Pullen (10), and Sierra Wangler (8). Jones also led the team with a terrific performance in the Salem game, netting a game high of 27 points.
Mercy will be on the road this Tuesday taking on Flint Powers Catholic.
Here's a look at the remainder of the 2014 schedule for the Marlins:
Friday, Dec. 12 v. Goodrich at 7 p.m.
Monday, Dec. 22 v. Canton at 7 p.m.