Krzywieki's commitment to Univ. of South Alabama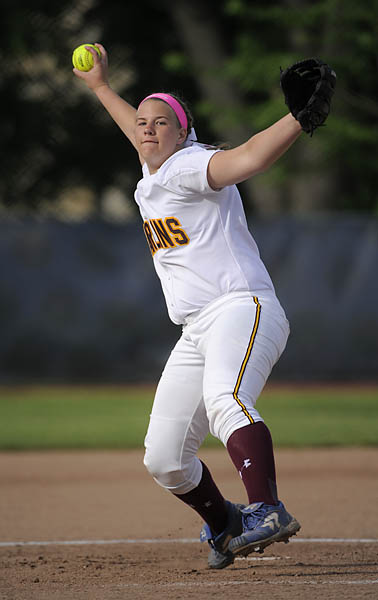 "Blessed" and "honored" are just two ways junior Abby Krzywiecki describes her current situation. After committing to the University of South Alabama to play Division I Softball as a sophomore, Krzywiecki says she could not be happier.
She admits that the road to Division I Softball was not easy. She started playing when she was 7-years-old. She plays every day, spending 15 plus hours per week training.
The reality of her dreams hit her in middle school.
"I realized what it would take to reach my goal when I was in eighth grade," Krzywiecki said. "People started to catch up to my skills and beat me…, so I worked a little bit harder and strengthened my mental game."
Going forward, Krzywiecki hopes to become an All-American and make it to the College World Series. Besides those concrete goals, she hopes to discover herself and make some memories.
"I want to have college be the best time of my life. I am looking forward to changing my lifestyle while I'm down there. Hopefully I will play some good softball, too," she joked.
Krzywiecki says that softball has taught her many lessons over the years.
"I've learned that a good attitude is the most important thing to have," she said. "I also learned that softball is just a game and everyone makes mistakes."
Krzywiecki always wanted to commit to a school early.
"Every aspect of my life has become a lot easier since I committed because that was always… in the back of my mind," she said.
Krzywiecki admits that playing on a team that is ranked in the top 20's in the nation was a dream of hers since age 10. The University of South Alabama women's softball team is currently ranked 20th in the nation.
"It is still hard to believe that my goal since I was 10 years old [came] true," Krzywiecki said. "Playing on and committing to this team is more than an honor. I whole heartedly believe that I am meant to go to college and play softball there."