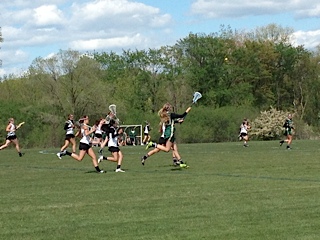 Mercy's Varsity and Junior Varsity Lacrosse teams have had an exciting season — but it's not over yet!  Junior Varsity stunned fans by remaining undefeated in their nine-game season. In an equally impressive regular season, the Varsity team boasted six wins, one tie, and only three losses and has now moved into the MHSAA tournament.
In the regional first round, Varsity Lacrosse eliminated Ann Arbor Gabriel Richard in 17-5 victory.  They then challenged GPW University Liggett and again were victorious in a crushing 19-5 win.
The team will now face their longtime rivals, Ladywood High School, in the Regional Finals at 6 p.m. on Friday, May 31 at Farmington High School.  Come out an support the Varsity Lacrosse Team and show some Mercy spirit!
For more news and an updated schedule, check out http://mhsmi.org/blogs/mercy_lacrosse.