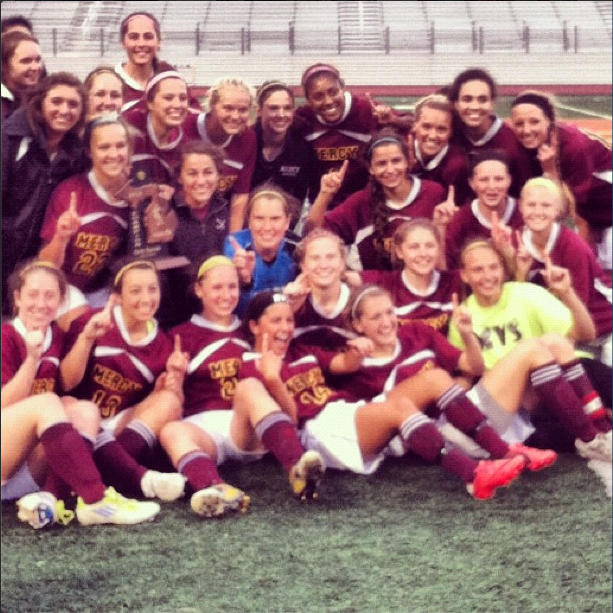 With the winter season coming to a close, spring sports have sprung into full swing.  At Mercy High School, students have the ability to participate in Softball, Soccer, Tennis, Track and Lacrosse to finish off the school year.
Many girls are taking advantage of the warm weather by participating in a variety of activities.  For some, like senior Katie Coerdt, this will be the final chance to participate in Mercy sports.
"I've been playing soccer for the past 3 years and this is going to be my final season," said Coerdt.  "I love all of the girls and it will be sad to leave, but I'm really excited to get after it and see the state finals on June 15th."
Soccer is just one of many sports athletes are excited about.  For junior Kara Peltola, track season is on her mind.
"I am so excited that track is starting because it's a fun way to be able to hang out with friends," said Peltola.  "On top of that, it's a great spring break workout!"
"With every new season you get a clean slate and a fresh start," said junior Sam Bauer of softball.  "I love playing. It is so much fun.  This season couldn't have come fast enough."
The tennis program is excited to continue with where they left off last year.  They have a team full of younger talent.  Sophomore Jordyn Puccio is one of the younger players holding up the team.  "I couldn't even wait for tennis season this year," said Puccio.
Junior Tori Sullivan, well known for her hockey endeavors, joins the Varsity Lacrosse Team to embark on another season.  "We're hoping to be a better, quicker team this year," said Sullivan.
The track and field team, along with the soccer team, will be enjoying a new shed built on the field this year.  The soccer team is also working on the addition of a new field to the side of the current field.  The process of this construction project has spanned over the past two years and will continue over the season.
The spring season marks the end of the school year, a time many students look forward too.
Sophomore Maria Pulice, a member of the varsity soccer team, is one of those students.  "I can't wait to finish the year," said Pulice, "hopefully with a state championship under my wing."