Super Bowl XLVII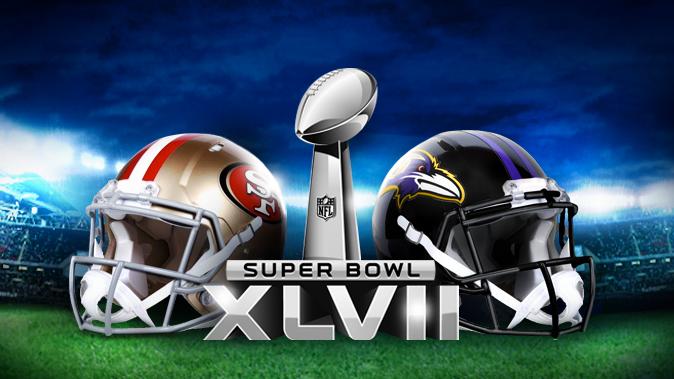 This year's highly anticipated Super Bowl XLVII was a hard-fought battle between the Baltimore Ravens and the San Francisco 49ers  in New Orleans, but in the end the Ravens came away with the win.
This was a history-making Super Bowl in that the two teams were coached by brothers, John Harbaugh and Jim Harbaugh.  Their father, Jack Harbaugh, had a great career as a player, coach, and athletic director at the high school, professional, and college level, including a stint at the University of Michigan.  He tops off a great football career by being the father of the first pair of brothers to serve as NFL coaches and first pair of head coaching brothers to face off in a Super Bowl.  Jim Harbaugh, coach of the 49ers, played his college football as quarterback at the University of Michigan.  Both brothers went to Ann Arbor Pioneer High School.  This was an exciting Super Bowl with many connections to the state of Michigan.
This year's halftime show was nearly as anticipated as the game.  Beyoncé, fresh off her performance at the Presidential Inauguration, announced last year that she would be performing during halftime at Super Bowl XLVII.
Beyoncé even held a photo contest with Pepsi that ran through January 11th, giving 100 fans the chance of a lifetime.  After fans submitted photos of themselves in different dancing poses, she selected 50 of them to introduce her at the Super Bowl and they could bring a friend.
Beyoncé lived up to all expectations with a dynamic performance, topped off by a surprise visit from the other members of Destiny's Child.
Apparently, the high energy performance literally sucked some of the energy out of the stadium.  There was a 33 minute power outage shortly after the halftime break.  Many commentators speculated that the power outage might slow the powerful momentum that the Ravens had generated in the first half.  It seemed that they might be right.  Following the delay, the 49ers scored 17 unanswered points to close the gap to five points.  But the Ravens held on for the 34-31 win.
Super Bowl XLVII was definitely one for the ages!