Halftime Show Dominates SuperBowl XLVII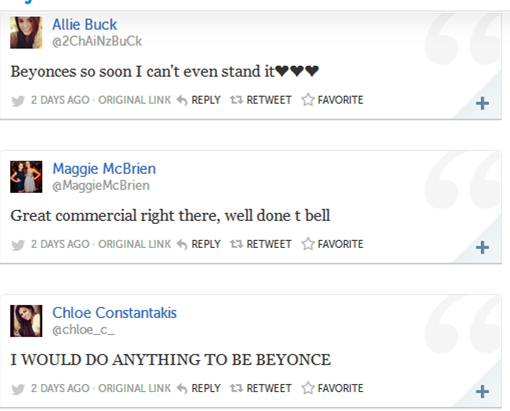 Students took Twitter by storm Sunday night as SuperBowl XLVII commenced and the Ravens took home the trophy. If one looked at a typical Mercy girl's timeline, it would be hard to discern that there was a football game occurring. Many people "live-tweeted" the commercials, but the real winner of the night was the halftime show performer, Beyoncé.
Beyoncé's halftime show consisted of many of her throwback classics such as "Crazy in Love" and "Single Ladies." Just when teenage girls were hyperventilating over their love of Beyoncé, she brought out Kelly Rowland and Michelle Williams. This trio is better known as Destiny's Child, the wildly popular 90's girl group. They reunited and performed "Bootylicious" and "Independent Woman" together.
After the glamour of the halftime show, there were only a few noteworthy commercials. Taco Bell delivered a hilarious montage of elderly couples doing teenage activities while the Spanish version of "We Are Young" played in the background. Oprah Winfrey narrated a two-minute long commercial for Jeep that showed videos of American soldiers coming home from overseas.
Below are some examples of Mercy girls' takes on SuperBowl XLVII.
http://storify.com/jahlarouere/superbowl