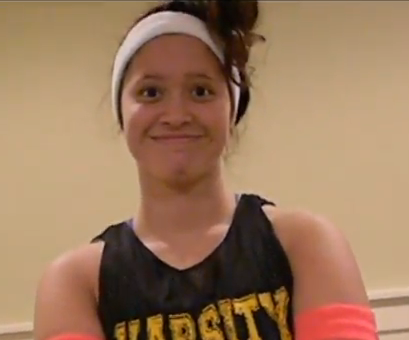 Junior Tori Sullivan has many claims to Mercy fame. Besides being a re-occurring star in the Class of 2014's sweepstakes videos, she has a Facebook group dedicated to her iconic bun. Sullivan also committed to play hockey with Boston College after Mercy and is a talented Varsity lacrosse player. After today Sullivan has a new item to add to her repertoire—infamous all-school emailer. On the same day that Mercy announced a new policy banning students from sending all-school emails, Sullivan . . . well, you guessed it.
NP: What was the inspiration for your gutsy reply to Mr. Baker's email?
TS: I thought it would be a good laugh for everyone!
NP: Have you ever sent a school-wide email before this one?
TS: Nope.  I have never sent an all school email before, but with the help of Anj Batra I found the courage to send my first one!
NP: If you were allowed to send anything over all-school email, what would it be? A picture? A video? A poem?
TS: Probably any type of funny picture or video.
NP: Do you fear repercussions for your school-wide reply?
TS: Not at all! It was worth the consequences.
NP: Besides sending snarky replies, what do you like to do in your free time?
TS: Do nothing. It's honestly my favorite thing ever (sitting on the couch just watching TV).
NP: How does playing a travel sport compare to a school-sponsored sport like lacrosse?
TS: It's a lot different with the training and traveling, but it's very similar with the girls you meet and the friendships you make.
NP: What are your hopes for this year's lacrosse team?
TS: State champs! Just the usual goal for any sports team. I'm hoping we can win as many games as we can this year and make it as far as possible when playoffs come around.
NP: How did it feel to be recruited by Boston College for hockey? Were you considering any other offers?
TS: I'm very thankful and lucky to be able to have the opportunity to play college hockey. I had a couple other offers as well, but I knew I wanted to go to school in Boston. I couldn't pass up an opportunity like that.