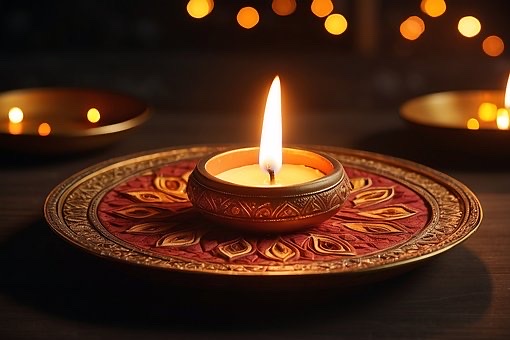 Diwali is a Hindu festival celebrated every year during the Hindi lunisolar months of Ashvin and Kartika, which translates to around mid-September and mid-November on the Gregorian calendar. It is estimated that more than one billion people celebrate Diwali every year, making it one of the most widely observed festivals in the world. Known as the Festival of Lights, Diwali symbolizes the spiritual victory of light over darkness, good over evil, and knowledge over ignorance. This year, Diwali will fall on November 12 to once again represent the triumph of light over dark. 
The celebrations of Diwali typically last five to six days, in which celebrants decorate their houses, temples, and workplaces with lights such as candles, oil lamps, lanterns, and more to light up the places they call home. Additionally, it is also customary to light fireworks as part of the celebration. 
"Every year on Diwali, my family goes out and lights fireworks and sparklers. A big part of Diwali has to do with light, so that's how we honor it," freshman Harshitha Arvapalli said.
Some aspects of this festival include prayer, feasts, fireworks, family gatherings, and charity. The most major way that Diwali is commemorated is when people wear their finest clothes and celebrate with their families by eating Indian dishes and sweets.
The first day of Diwali is called Dhanteras, which consists of families cleaning their home to prepare for the upcoming festivities. The second day of the festival is called Choti Diwali where families decorate their homes with varying types of lighting, such as candles and lamps. The third day is called Lakshmi Puja. On this day, it is customary to pray and continuously ask for blessings. On day four, Goverdhan Puja, people visit with friends and relatives to trade gifts. The fifth and final day is called Bhai Dooj, which celebrates the bond between siblings. Each day in Diwali focuses on a different aspect of the festival, making it an eventful and exciting celebration. 
Diwali is a time when millions of families around the world come together and celebrate. The festival not only lights up homes but also the human spirit. As people come together to celebrate, the true meaning of Diwali shines through in the bonds and unity that is created each and every year.