Recreate a Mercy food favorite: Greek salad flatbread
Livvy Hintz, Photography & Video Editor
November 28, 2017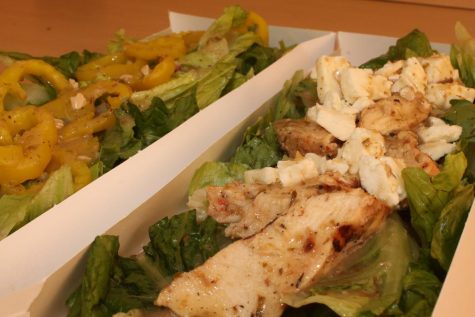 Greek salad flatbread is arguably the most delicious and popular dish Chef Mike prepares for Mercy students — along with pasta bar and kickin' chicken. Here's the quick and easy recipe for the student (and staff) favorite:
Ingredients:
Skinless/boneless chicken
Flatbread (grocery brands such as FlatOut and Stonefire)
Lettuce
Beets
Red onions
Feta cheese crumbles
Kalamata olives
Yellow (banana) peppers
Hellmann's greek dressing
Marinade for chicken:
¼ cup red wine vinegar
¼ cup balsamic vinegar
½ – ¾ cup extra virgin olive oil
2 tablespoons Good Seasons italian dressing mix (dry)
Fresh garlic (as much as you'd like)
Flatbread coating:
1 cup extra virgin olive oil
Fresh garlic (as much as you'd like)
3 tablespoons basil
3 tablespoons oregano
Directions:
Mix together the chicken marinade with a little cold water. This will help to keep the oil and vinegar from separating.
Put raw skinless/boneless chicken in the marinade overnight. You can use any raw meat you'd like.
Grill chicken to internal temperature of 165°F.
For the flatbread, mix the coating ingredients together and brush on the flatbread.
Bake flatbread in 350°F oven for 5 minutes.
Assemble the salad with lettuce, beets, red onions, feta cheese, kalamata olives, yellow (banana) peppers.