Looking back and beyond the stage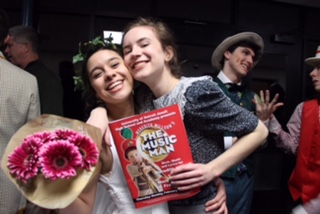 Rewind to last week. It's the last day students performing in The Music Man will be rehearsing in the University of Detroit Jesuit (U of D) commons, for they are soon moving locations to Thurston High School's stage to rehearse before the show.
This was a bittersweet moment for many, especially the seniors, as some have been performing in U of D theater for years.
"People were just running around, some people in the corner were playing ninja, some were getting costumes and such together, and the seniors were just happy and sad crying because it would be the last time we were rehearsing there," said Mercy senior Ann Nelson, who has been in five U of D performances. "Claire [Alafita] and I went into the back hallway where we used to sit during fall play to reminisce and go down memory lane."
Peeking around, the two found a couple of abandoned pieces of wood and decided to pocket them. To remember the simple but meaningful experience, Nelson keeps her hunk of wood on her bedside table.
U of D theatre has helped Nelson feel as though she is a part of something and was even the reason she met the spunky, adventurous girl with whom Nelson shared that second piece of wood.
"It's such a family," Nelson said. "It's a good way to meet new people." She gestures to senior Claire Alafita who is sitting next to her. "I met my best friend there."
Being in U of D's fall play for three years and the musical for two has also furthered Nelson's dreams of some day working in the world of performing arts.
"I kind of got into theater because I just liked that kind of storytelling," said Nelson. "I feel like going into it was less of a conscious decision because it was something to prepare me for what I could be doing the rest of my life, it was just something that I enjoyed doing. But through doing it, I have come to realize it is something I could do the rest of my life and be happy doing."
Nelson hopes to become a screenwriter and she attended Interlochen, a three-week long art camp, last summer to help her get a sense of what she will be pursuing as a career. She "majored" in screenwriting and took classes relating to film production, film writing, and film history. At the end of the three weeks, students shared the 30-minute screenplays they had written and acted them out in front of an audience.
"I kind of got the idea of wanting to write movies, shows, or plays from U of D theatre, but Interlochen really solidified it for me and just gave me the logistics of how to make that happen," said Nelson.