Sharing the holiday cheer with Spanish Honors Society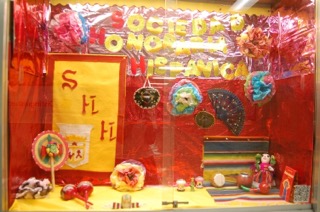 Each year during Christmas, the streets of Barcelona, Spain come alive with song and dance in a vibrant and festive Feliz de Navidad Fiesta. Good food is enjoyed, laughs are shared, and the atmosphere is lively and lighthearted. Mercy's own Spanish Honors Society (SHS) emulated this same holiday cheer at their annual Fiesta de Navidad on Dec. 14. One of the many activities that members are able to participate in throughout the year, the fiesta featured cookie decorating, arts and crafts, and a Christmas themed Kahoot — entirely in Spanish of course.
"The best part [was] definitely the crafts," said junior Lauren Hunter as she worked on a Christmas ornament. Another craft offered was a traditional Mexican Ojos de Dios, or God's Eyes. This craft utilizes brightly colored yarn and two popsicle sticks glued together to form a cross. The yarn is then wrapped around the two sticks to create different patterns. Despite the availability of this traditional Mexican craft, most SHS members opted to make their own ornaments in keeping with the Christmas spirit. The next room over featured Christmas cookie decorating and Spanish cartoons. The third and final activity of the afternoon was a Spanish Kahoot. As always, the Kahoot brought the competitive spirit out in those who participated, and all the questions and the answers were entirely in Spanish.
After a successful and entertaining Christmas party to end the semester, SHS is already looking forward to next semester already. SHS will visit a restaurant in January and the new year also marks the beginning of the Pulsera Project. This non-profit organization raises money for the education of Nicaraguan youth through selling multi-colored bracelets. SHS has proudly taken part in this charity for the last four years, and hopes to achieve continued success in this fundraiser.