A recap of Mercy's MUN season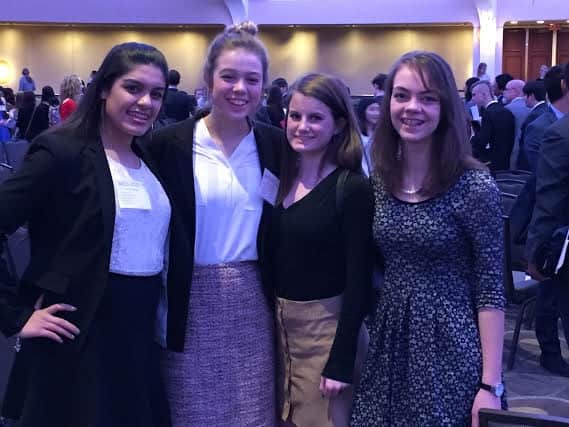 An eventful MUN season is coming to a close. This year, the delegates participated in three successful simulations in the fall: MERMUN hosted by Mercy, BROMUN hosted by Brother Rice, and UDMUN hosted by the University of Detroit Jesuit. These simulations led to the achievement of various awards by Mercy delegates including, a Major award by seniors Carmela Sleva and Lucy Devine, a Minor award by sophomore Isha Ganguli, and an honorable mention by sophomore Ana Warner.
Warner believes that she and the rest of the delegates have come a long way since the start of their season.
"When I first joined, I didn't really know what I was doing or what MUN was really about," said Warner. "But it's made me more confident with putting my ideas out there and being vocal."
As the season closed, it was evident that many advancements were made this year, especially with the delegates' performance at the North American Invitational Model United Nations (NAIMUN) in February. NAIMUN is the annual national simulation that is held in Washington, D.C. where thousands of students from all over the country – as well as abroad – come together to participate in one of 39 committees. Seniors Lucy Devine, Olivia Bonfiglio and sophomores Isha Ganguli and Ana Warner were the lucky delegates who went.
"I've been going to NAIMUN since I was a freshman, and it is always a highlight of my year," said Devine. "The entire weekend was amazing. There were thousands of high school students staying in one hotel and competing against each other. I met people from China, Philadelphia, Texas. I got to collaborate with high school students from all over the world."
Warner describes NAIMUN as one of her favorite events of the year.
"My favorite part about NAIMUN is getting to visit D.C. and meeting so many people," said Warner.
She plans to return to MUN next year and has hopes to become officer and bring more people into the club.
"I think MUN is really good for anyone who likes public speaking, foreign policy, current events, or wants to improve in those areas," Warner said. "There's a lot to learn from trying it out."