Tri-M elects new officers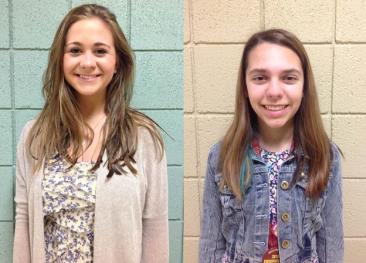 The Tri-M Music Honor Society held elections for its 2015-2016 officers at its last meeting of the year as an innovative and fun-filled year drew to a close. After hearing a speech by each candidate, Tri-M members voted for junior Elisabeth Levandowski as president and sophomore Sarah Maxey as vice President. The vote was followed by a productive brainstorming session about the upcoming year .
Levandowski is a Mercyaire and a three-year Tri-M member, and Maxey is an orchestra student and a one-year Tri-M member. They presented many new ideas for the club, including snacks at each meeting and more field trips to orchestra concerts and operas. They also pledged to hold Tri-M members to their responsibilities, making sure that obligations are fulfilled in a timely fashion so that the club can promote awareness throughout the school.
Awareness was a major theme discussed at the meeting by the club's members. It was decided that Tri-M would focus on spreading the word about what its purpose it next year, both to incoming freshwomen and to current students. Ideas on how to go about this included a Tri-M sponsored talent show, collaboration with Tri-M chapters at other high schools, and a larger presence at Mercy's open houses.
Maxey is excited about the prospect of a larger Tri-M chapter at Mercy.
"I'm looking forward to making Tri-M better and trying to expand the amount of people that attend the meetings," said Maxey.
The meeting ended with a pizza party to celebrate the accomplishments of current members over the course of this year, and Tri-M members said goodbye to the club until next fall. Under the direction of its new leaders, Tri-M is looking forward to a creative and music-filled 2015-2016 school year.