B.A.S.E. guest speaker shares her Mercy experience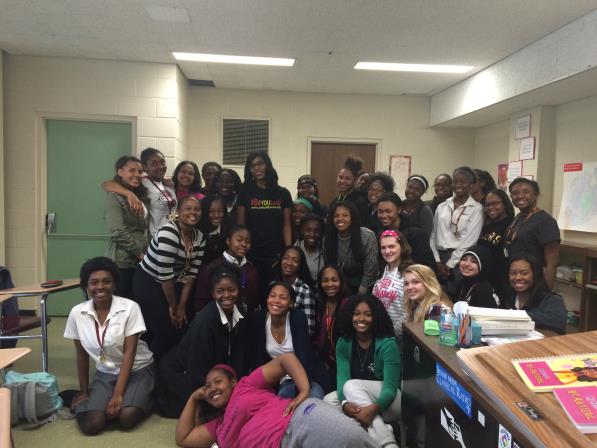 B.A.S.E. held its annual end-of-the-year party on April 23. Rather than simply eating and talking, however, the ladies of B.A.S.E. were treated to a motivational speaker, who also happens to be a Mercy graduate.
Loretta A. Morman graduated from Mercy in 2005, received a Bachelor's degree in psychology from Michigan State University and a master's degree in social service administration from the University of Chicago. In the last year, Morman released her book, Hello My Name is B.E.A.U.T.I.F.U.L., which was written to encourage African-American girls to have a positive self-image.
At the meeting, Morman spoke of her experience at Mercy along with the struggles and triumphs she faced as an African-American at a predominantly white school. Some of the issues she described are still seen by students today, such as the segregation in the cafeteria. Morman was shocked to hear about the racial tensions that still exist, but encouraged B.A.S.E members to push through them.
Morman led an open forum and many juniors and seniors described experiencing negativity toward their race during their freshman and sophomore years, while the underclassmen had different views. Many of the freshmen and sophomores said they never experienced racial prejudice at Mercy and did not see a separation between themselves and their Caucasian counterparts. Some credit this shift to the changes made to Spirit Week.
"A lot changed with Spirit Week and Mercy in general for the class of 2017," said junior Taylor Jackson. "I think the changes were for the better. It was also good to hear [Morman's] perspective and she allowed us to share our experiences."
Morman told B.A.S.E. members to appreciate their time at Mercy. According to Morman, students often become so immersed in academics that they forget to enjoy their time in school. Morman stressed that students should step out of their comfort zones and form relationships with people who they would not normally hang out with.
Morman is still very close with her friends from high school and spoke about how Mercy shaped her into the woman she is today.
"I'm going to take her advice and enjoy my time here more," said Jackson. "I know that it worked for her because she's successful."
Morman said she hopes to stay involved with B.A.S.E. and speak at more meetings in years to come.