Mock Trial Update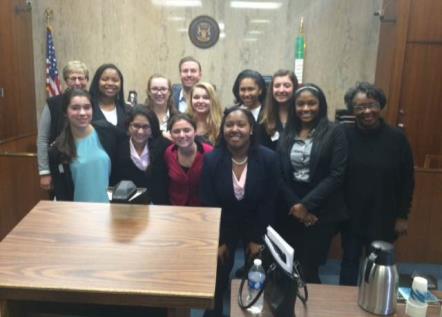 After competing at the long-awaited regional competition, the Mercy Mock Trial team was able to advance to the statewide competition in Lansing on March 28th .
Emotions were running high after it was announced that the team– which has only existed for three years– would be advancing to states. Captains Gia Toler, Kathryn Dunleavy, and Alycia Washington raced to receive their trophy with tears of joy streaming down their faces.
Toler described the feeling of advancing to states as being very rewarding.
"It was such a great feeling to be able to advance to the state competition in Lansing," said Toler. "It made all of our late-night practices and hard work worth it in the end because now we get to compete against the best of the best."
Mercy faced formidable competition in Lansing and the team was able to hold its own. Mercy competed against two other teams and ended up beating the second. Mercy was not one of the four teams that advanced to semi-finals later that day, however. The team from Mercy's brother school, University of Detroit Jesuit, advanced and ended up being the state runner-up.
Despite the fact that they did not win states or advance to nationals, the Mock Trial girls proved that they can hold their own both inside and outside the courtroom.