Three Mercy students receive the highest award in Girl Scouting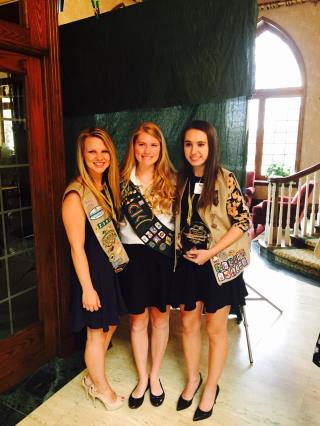 "On my honor, I will try to serve God and my country, to help people at all times, and to live by the Girl Scout Law."
Juliette Gordon Low had these words in mind when she formed the first Girl Scouts of America troop in 1912 in Savannah, Georgia.
This month, three Mercy girls received the Gold Award, the highest award in Girl Scouting:  senior Natalie Apollinari, junior Annie Leuker, and senior Peyton Pawlusiak.
Girl Scouts is a community that builds girls of courage, confidence, and character. In addition, girls interact with others through educationally enriching experiences, community service, and cultural exposure. Although Girl Scout cookies are perhaps the most famous tradition, the Gold Award is the most prestigious award a Girl Scout can achieve.
Apollinari's project aimed to deliver literacy kits to children in Ghana. Leuker created an anti-bullying program that is taught annually at Turtle Creek Farm in Waterford. It teaches children compassion toward animals and people, how to be good friends, and how to be peacemakers in the world today.
"I chose to complete this huge project because of the benefit I knew it would have," said Apollinari.  "The children in Ghana had so few resources and parent motivation to learn that I knew I had to do something. Any little way I could help, even if it only helped one child, would be a success."
Earning the Gold Award is not an easy task.  It represents the highest achievement in Girl Scouting, and is only available to girls in high school. It is a seven-step project: identify an issue, investigate it thoroughly, get help and build a team, create a plan, present the plan and gather feedback, take action, and finally, educate and inspire.
"The program that I developed will positively impact how children treat others, both short-term and long-term," said Leuker. "In the short term, as the children move through their camping week, they will enjoy the many stories, games and activities that are included in the anti-bullying program."
A Commentary
The Gold Award is a prestigious award to achieve.  While it was satisfying to receive this distinguished award, the meaning behind my project will forever mean more to me than the words on an embossed certificate.
Ready, Set, Read was the culmination of my love of both reading and education.  Ever since participating in the Accelerated Reader program in third grade, I have been inclined toward reading and all the opportunities it offers. This passion for reading, along with my background in Girl Scouts, made the idea of bringing books to underprivileged children an obvious choice for my project.
My journey to achieve the Gold Award was a long one. I have worked since the summer of 2014 to organize and complete my Take Action project. I partnered with the Our Lady of Victory youth group and organized a book drive through both the parish and the school. The book drive benefitted emancipated boys ages 4 to 18 living at Christ Child House (CCH) in Detroit.  The book drive was incredibly successful; I was fortunate enough to receive over 300 books. In addition, monetary donations contributed to the purchase of two mahogany bookcases for the boys at CCH.
The day we delivered those books and bookcases was one of the most memorable days of my life. I saw the direct impact I had on the children, and that was an incredibly fulfilling moment.
The Gold Award was an important milestone in my life, and one day I hope I am blessed to guide my daughter to earn her Gold Award.