A Look Into Quiz Bowl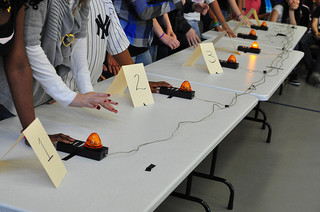 Mercy has numerous sports teams; however, with such a big emphasis placed on larger sports teams, the smaller clubs are overshadowed. Enter quiz bowl; an academic sport that has been a part of Mercy for over 10 years. Most students are unaware that quiz bowl is actually an academic sport and varsity members can receive a varsity academic letter if they fulfill the necessary requirements. Most members join quiz bowl because they believe it will be fun, and they will learn new things.
"I got involved in quiz bowl because some friends mentioned it to me," said senior Emilia McCotter, "and I thought it might be fun to see what it's like."
Quiz bowl is a national organization run by the National Academic Quiz Tournaments (NAQT). Schools internationally participate in meets and tournaments beginning in November and ending in Febuary. Students can participate in quiz bowl beginning in middle school and can continue on into high school. However, for those who are really interested, quiz bowl is a sport that can be played at the collegiate level.
Mercy participates in the eastern league of the quiz bowl chapter against University of Detroit Jesuit, Farmington High, Shrine School, Country Day, Brother Rice, and Frankel Jewish Academy. Librarian Ms. Katy Koskela has been involved in quiz bowl for over 10 years at Mercy and has been the quiz bowl moderator for the past eight years.  She also receives assistance from Mr.Wolfe, the father of a Mercy student and four-year member of quiz bowl.
"I think [quiz bowl] is a good way to get students to take advantage of their academics and become [experts] in one particular subject. I think quiz bowl has the potential to prepare kids to do all things," said Ms. Koskela.
Quiz bowl teams may consist of any amount of students; however, only four are allowed to compete at a time. Practice is essential for teams to be able to answers questions on literature, science, geography, and history. These are the main topics teams are quizzed on, and students spend time reviewing, learning and mastering questions in each of these subjects.
"We have practice every Tuesday after school," said McCotter.  "Ms. Koskela quizzes us with NAQT questions similar to the ones that they ask us during meets."
While other schools spend two or three hours practicing per week, Ms. Koskela takes a different approach.
"I feel like [quiz bowl] should be fun," said Koskela. "It shouldn't be a life or death matter. Students are involved in a lot of things, and [quiz bowl]  provides a niche for those kids not involved in a lot of [extracurricular] activities."
However, for those students involved in more than one after school activity, coming to practice every Tuesday can pose a challenge.  These students can purchase quiz booklets that can  help them learn more about the different subjects or help them master one subject in particular. Although quiz bowl might not be the first sport that comes to mind, it is one to look into.
"Quiz bowl [is] a way to try something new," said McCotter, "and [a way to] see what doing a non-traditional sport would be like."