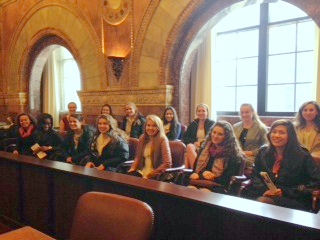 Mrs. Cindy Richter's AP Government class took a trip to the Theodore Levin United States Courthouse on Thursday, getting the opportunity to tour the historic building, sit in on a trials and a sentencing, and even take a look inside the "million dollar courtroom."
For Alysa Graf, the school trip solidified her love for law and future aspirations in that field.
"I always knew I wanted a career having something to do with law," said Graf. "After talking to the U.S. Marshall I can see myself in law enforcement. Being a prosecuting lawyer could be another option for me as well."
The students were also able to witness a live sentencing, seeing first-hand the concepts they learned about in class. Seeing an individual sentenced to time in prison, however, wasn't necessarily easy.
"I really enjoyed attending the trial and sentencing," said Amelia Fanelli. "The sentencing was very sad though."
The sentencing also stood out in a similar fashion to Morgan Young.
"It was heart wrenching," said Young. "We were about to witness first-hand the struggle that judges encounter when it comes to the law and their conscious."
Mrs. Richter's class was also able to take a look inside the historic Chief Justice courtroom. This was built in the previous building in 1896 before being completely disassembled and rebuilt identically in the new courthouse. Mahogany, marble, and stunning architecture live up to its "million dollar courtroom" name.
Fanelli enjoyed interacting with those who work in the courthouse.
"I actually liked talking to the judge, as I know judges are held in high esteem," said Fanelli. "It really made me happy that one of them talked to us."