Giving Mercy a Helping Hand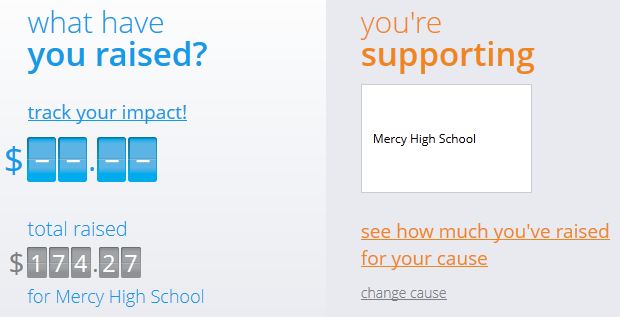 Helping Mercy grow is a top priority for many Mercy students, alums, parents, and teachers.  Some like to volunteer their time and help out at Mercy events while others prefer to donate money.
An easy and free way to raise money for the school is by replacing your favorite search engine, such as Google or Bing, with GoodSearch.  GoodSearch is a search engine hosted by Yahoo that donates a penny for each search made to a selected charity or school in America that users choose themselves.  The site was created in 2005 by Ken and JJ Ramberg after realizing how much money is generated each year by advertisements online.   The money donated is provided by Goodsearch's advertisers and sponsors.
This is a simple way to help out Mercy High.  Go to http://www.goodsearch.com and type "Mercy High School" in the search bar.  You will be able to choose Mercy High School Farmington Hills from a list of Mercy schools.   There is no tricky set-up process or login information required.  If you do choose to make a GoodSearch online profile, you can track how much you have raised and earn badges for the contributions you have made.
GoodSearch has been mentioned in the news many times, including in the Huffington Post's article, "Five Ways to Give without Spending a Dime."  GoodSearch has also been mentioned on the Today Show, in Forbes Magazine, and on CNBC.
Though a penny may not seem like much, the money can really add up.  For example, if 800 families did just 10 searches a week, Mercy would bring in $80 dollars a week.  Currently, GoodSearch has donated about $174 to Mercy.