While most Mercy-Marian sporting events are characterized by rivalry, the golf team opted for a friendly, collaborative approach to the M&M golf tournament between the two schools.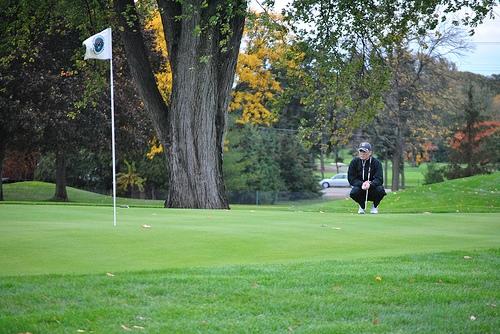 "The M&M Tournament is a tradition between the Mercy and Marian varsity golf teams," said Golf co-captain Sarah Montone, a senior.
At M&M, each of eight Mercy golfers pairs with one of eight Marian golfers, and the pairs are divided into two teams. The teams then play each other in a scramble—where both players hit from the better of the two balls.
"I look forward to playing in the scramble with Marian every year. It is a fun way to end our season before states," said Golf co-captain Brenna Hammond, a senior.
The golf season officially ends October 20th, after the state meet in East Lansing.
"The competition and camaraderie with at our M&M match helps lighten our moods going to states," said Montone. "It helps us to see how we golf compared to our competition."
The Mercy golf team is undefeated in the Catholic League and placed second at the Regional Tournament. The team is looking forward to greeting the rest of their Division I competition at states.
[wzslider autoplay="true" info="true" lightbox="true"]