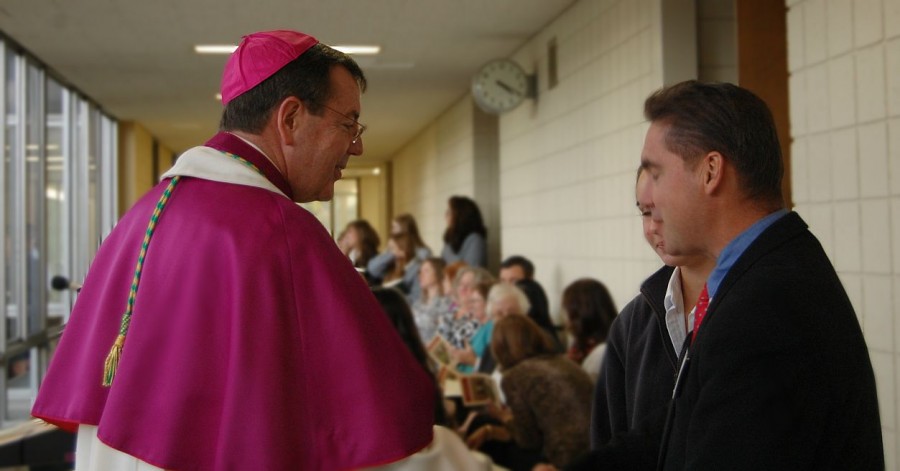 Amid the sounds of Radetzky's March, Archbishop Vigneron arrived at Mercy this week with the special purpose of blessing the newly renovated north courtyard.
The courtyard, which features a statue of Our Lady of Mercy and is open throughout the day, delighted students with its beauty when the school year started. However, the effort to beautify the courtyards began much earlier than most students realize.
In June of 2011, several staff members began to evaluate the environmental pros and cons of Mercy and while the courtyards were definitely a positive feature, there were some obvious issues.
"We counted the courtyards as one of the pluses but we didn't think they were properly designed or maintained," said Susan Smith, the art teacher who designed the new courtyards.
Luckily, the staff members' dream of new courtyards lined up perfectly with the hopes of Mercy trustee William Valade, who also felt that the courtyards could use updating.
Together, they came up with the idea of basing each courtyard on one of the Mercy values, and having the sixth one dedicated to the Mercy community as a whole. First up, the value of Mercy provided the inspiration for the North Courtyard.
When the plans were accepted, the search for a suitable contractor began. By some chance of fate the landscaping company chosen was run by none other than a Mercy graduate, Rosalyn Zwick ('76).
"We worked together to make the courtyard a reality. She made my designs feasible and maintainable," said Ms. Smith.
On Wednesday, their hard work was recognized in the blessing of the courtyard by the Archbishop.
"He [the Archbishop] recognized and respected the fact that the courtyard is a symbol of our Mercy community. It is part of us," said Dean of Students Jonell Linskey.