Cupid Hits the Halls of Mercy High School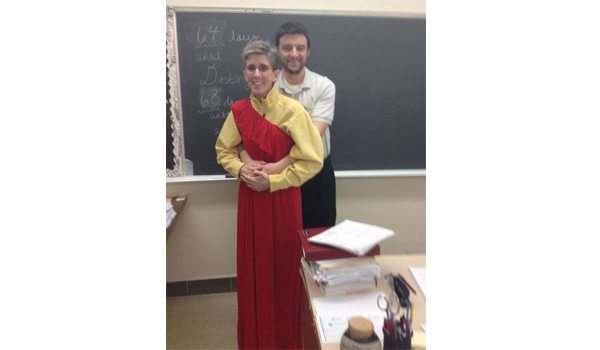 THIS JUST IN.
In a strange turn of events this morning, a prom proposal rocked the halls of Mercy High School in perhaps one of the most unexpected matchups of all time: Mr. Stevie Whiteshoes Morgan and none other than Ms. Anne Jamieson (also dubbed Ms. J, by some of her fans).
Ms. J, upon receiving her asymmetric floor length crimson gown, knew it was time to take her prom plans to the next level. And she knew just which tall drink of water to ask. None other than Mr. Morgan.
So, plans were quickly thrown together, and with some quick decisions, the journey to S-5 began. Ms. J, seemingly confident of his answer, strode the halls with an air of nobility, despite the strange looks she received. Mercy girls, who are generally jaded to the looks here, stopped dead in their tracks. This prom princess was on a mission.
Upon entering the room, a confused looking Mr. Morgan remained silent. Without a word, he simply backed up his chair, looking like a scared gazelle backed into a corner by the mob (of what I'm sure he imagined as lionesses) that stood outside his door.
Despite all the hubbub, Ms. J remained calmed and asked the bearded Mr. Morgan to attend prom with her. His only response?
"Will you pay for dinner?"
Senior Olivia Cholewa, then shouted before Ms. J could reply, "Only if you wear the dress!"
Lucky for you readers, Newsprint was lucky enough to snag a pre-prom picture of the couple. (Unfortunately, Mr. Morgan was not wearing the dress at this point.)
Keep looking to Newsprintnow.net for all the breaking news at Mercy High School.