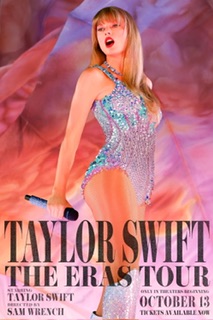 On October 13, millions of people gathered in cozy theaters with glittery costumes to experience the Eras Tour Movie on film. This film is a compilation of the Eras Tour Concert itself. Picturing the journey through the Eras as seen at the concert. Through this movie, fans can immerse themselves in the concert while singing and dancing to their favorite songs. 
One main reason Taylor Swift made this film was for the individuals who were unable to attend the concert in person. The film allows them to experience the concert for less money and at a more convenient time. 
"It was cool to see Taylor perform even if it was just on a screen," freshman Emery Kolb said. 
One aspect of the movie was enticing even to those who already attended: the view. Since so many people went to the concert, good seats were hard to come by. Due to this, some people had to sit in the back with a limited view of the stage production and Swift herself. Therefore being able to see Taylor and some of the stage visuals that were not previously visible made the movie exciting. 
"It was cool being able to see the stage up close instead of from far back in the crowd," senior Bella Stansell said. 
While at the movie, there was much variation in how the audience behaved while viewing the show. Some people stood up and danced, others sang along and some even sat in silence. Despite how the crowd expressed their excitement, everyone was encouraged by Taylor and the theater owners to have fun, sing, and trade friendship bracelets. This allowed the audience to truly immerse themselves in the movie and pretend they were at the concert. 
"At my show most people were singing and dancing together which was really cool!" freshman Brooklyn Mink said. 
Despite opening night being October 13th, there was still much excitement at the theater even after the initial weekend it was aired. People continued to show up and some people even attended multiple times. Both times they went the crowd was very into the movie and singing and dancing. Therefore, even if you choose to go weeks after it initially aired the energy in theaters remained high.
"Both times I went people were singing and dancing but when I went the second time there were many kids very excited and running up to the screen to sing and dance with each other," senior Natia Szuba said. 
Overall, Swift surely knows how to engage a crowd and the concert itself is truly magical. The nostalgic music, chants and visuals make for a memorable experience that truly makes you feel like your at the concert. Both the concert and movie were exceptional and I highly encourage you to go, even if you aren't the biggest Taylor Swift fan.