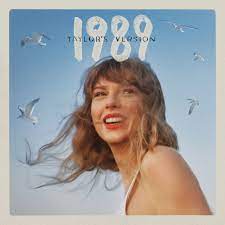 While 'swiftie' Mercy girls jammed out to newly released "1989 (Taylor's Version)" on the way to school Friday morning, many opinions of the album began to form. The first release of the album "1989" came out on October 27, 2014. Now, after eleven years, a secession from Big Machine Records, and Swift's record-breaking and ever-expanding career, she has re-recorded and re-released the album on the exact date it was first put out. To encourage her loyal fans to choose to listen to "Taylor's Version," instead of the normal version (which is not owned by Swift), she adds "vault" songs that have actually never been released to the public. These "vault" songs are especially anticipated by fans because they were created at the time of the album's original release, but were never actually put on the album. "1989 (Taylor's Version)," which finally came out last Friday at midnight, features five "vault" tracks.
    As "1989" was Taylor's first all pop-based album, the feel was very exciting and playful. My favorite "pop-sounding" track is "Out of the Woods" and for this one, I thought Taylor made it much better than the original version. The background vocals and sounds were more wistful and lyrical than the original, which had a more poignant and loud background. I prefer Taylor's slower and less-pop albums, like "Folklore" and "Evermore," so I loved her re-record of "This Love" on the new album. Also, the vault song "Say Don't Go," was a very pretty-sounding song. Both "This Love," and "Say Don't Go" highlight love as something that can be good, but also something that can be bad, uncomfortable, and painful. For me, "1989 (Taylor's Version)" includes the perfect mix of pop and lyrical tracks.
    For many, the "vault" tracks are the best parts of Taylor's re-recorded albums. 
"I love her song 'Sl-t!' And Taylor 'eats' at everything she does. I love '1989 (Taylor's Version),'" one of the most 'swiftie' people I know, junior Jenna Matigian, said.
    The "vault" song "Sl-t," has been long awaited because of its intriguing title, ever since Swift released clues for the "vault" songs on her Instagram, for her fans to guess. Similarly to Jenna, I loved this song. The message was incredibly powerful for girls and the bridge was very catchy.
    "I really liked all the new 'vault' tracks and the way they sounded, but some of the backing tracks on other songs sounded dulled, like on 'Style,' for example," junior Julia Wadowski said.
    I agree with these thoughts on the song "Style." I think it is the song on this new album that has changed the most out of any other. The chorus of the song does not have as dramatic a feel of the original. It sounds almost as though Swift was actually in love and pouring her heart out in the first version. Whereas in the new version, not as much emotion is prevalent. The sound and vibe of the song is very different from Swift's original song, which has been speculated to be about her love for celebrity, Harry Styles.
Inevitably, Swift's voice has changed a lot since the first release of the album.
"I loved how in the 'Taylor's Version' of each song you can tell that she has grown up and her voice has softened, making each song more emotional," junior Keira McNutt said. 
It is a very special thing for long-time fans of Swift to watch her grow in so many ways. The varying take-aways from each track, as well as the vibe of each song, have changed since the first version of the album. Personally, I think these changes are for the better, and they all combine to form Swift's new persona and image, after the many setbacks throughout her career.
I love Swift's overall messages in the album about reinvention of oneself, rising to realizations, the tribulations of love, and more. All in all, I would rate "1989 (Taylor's Version)" an 8.5/10.
Image from: pitchfork.com