Pope Francis Frenzy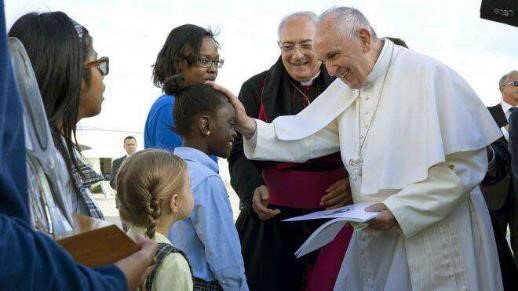 It's not every day that Pope Francis makes the 5,346-mile journey across the pond to the United States. Starting off his journey Sept. 22, Pope Francis visited Washington D.C., New York City, and left from Philadelphia Sept. 27. His arrival sent Americans into almost a "pope craze," as the media and people everywhere were buzzing about his whereabouts and actions. Talk of Pope Francis is also frequent within the walls of Mercy High School.
"Pope Francis is so down to earth," said sophomore Abby Bush.
Although Pope Francis addressed Congress and met President Barack Obama on his visit, he also made time for the poor. On Sept. 24., Pope Francis took the time to greet and interact with the people at St. Patrick's parish and soup kitchen in New York City.
Senior Maddy Hintz was in New York City visiting her sister at the same time Pope Francis was there.
"The amount of people [there] to see [Pope Francis was] insane," said Hintz. "It really shows how much impact he has [on today's society]."
Through his papacy, Pope Francis strives to change the direction of the Catholic Church. Unlike many other popes of the past, Pope Francis emphasizes an inclusive, loving Church, which has earned him the nickname of "The People's Pope." Even on issues such as abortion– which used to result in excommunication– Pope Francis declared that forgiveness is attainable.
"[Pope Francis] is amazing," said senior Missy Hunt. "I like that he has adapted a lot more to modern culture and how he is challenging the ways of the Church to conform to today's society."
He constantly makes headlines for his humility and understanding. In March, Pope Francis also made headlines for a cause near and dear to the mission of Mercy. Pope Francis declared that Dec. 8 would begin the Year of Mercy.
On Sept. 25, Mercy celebrated the third annual Make a Difference Day, and many kept Pope Francis and the Year of Mercy in mind.
"I love [Make a Difference Day,]" said Hunt. "It's even more special this year considering that it [will soon be] the Year of Mercy. Serving the community makes me feel really good and puts a smile on my face."