Loretta Lynch makes history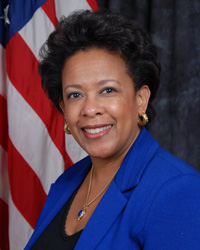 Loretta Lynch made history on April 23 when she was confirmed by the U.S. Senate as the next attorney general. Lynch is the first African-American woman to hold this position.
Lynch was U.S. attorney for the Eastern District of New York since her appointment by former President Bill Clinton in 1999. She also served as a federal prosecutor in several New York cities.
Following in the footsteps of Janet Reno, the first female attorney general, Lynch possesses two degrees from Harvard University: a Bachelor of Arts in English and American Literature and a Juris Doctorate.
Lynch was nominated by President Obama as successor to Attorney General Eric Holder on Nov. 8, 2014. However, her confirmation was not approved by the Senate until April with a vote of 56 to 43.
Lynch is one of many women making strides in politics and the workforce. Hillary Clinton recently announced her campaign for the 2016 presidential election. Many see Clinton and Lynch as examples for young women and girls.
"Loretta Lynch becoming attorney general makes me believe that I can be anything I want," said junior Taylor Munson. "She is doing great things by making history."