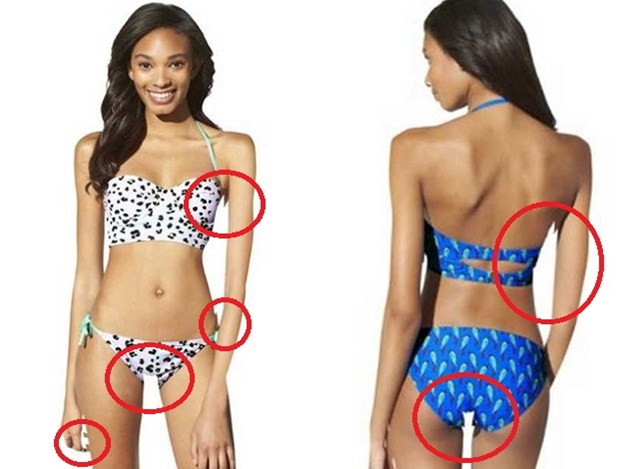 "Women are never satisfied with how they look because what's supposed to be perfect isn't real," said senior Christine Peterson.
While improbable expectations of beauty have been long been an issue, from suffocating corsets to foot-binding of ages past, the problem has recently come to the forefront once again.  Most notably, the recent backlash against Target for a bikini advertisement on its website which featured a young model with bizarrely skinny arms and legs. The picture, which was quickly removed and followed by profuse apologies, had clearly been digitally altered – very sloppily altered at that – and gave the model an unnaturally large gap between her thighs and several strange lumps where her body parts had been shoddily retouched.
"Unbelievable! The girl is crazy skinny already," said Peterson. "This just fosters self-doubt and lowers self esteem."
While the instance of the Target model is certainly concerning, it is just the latest in a long string of outrages regarding the use of Photoshop in commercials. Proponents of digital retouching argue that it allows advertisers to correct flaws that were not immediately obvious during the photo-shoot. However, the growing feeling is that Photoshop is only contributing to the self-esteem issues of girls across the nation, especially when the photo-shopped images are presented as attainable.
"I think it creates unrealistic standards that women, in particular, set for themselves," said Peterson.
Fortunately, gradual changes are being taken to rectify the issue. Lingerie  brand Aerie recently resolved not retouch any of its ads, instead presenting its models as they really are. As the company wrote in a recent press release, "We want every girl to feel good about who they are and what they look like, inside and out."