Model UN: Mercy NAIMUN Attendees Announced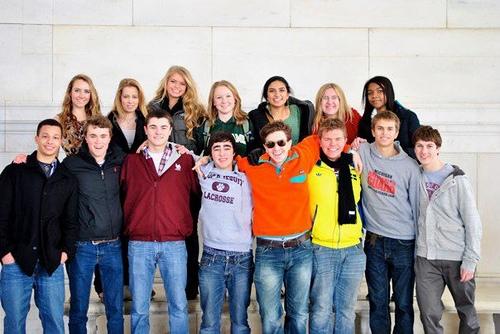 The top eight delegates of the Model United Nations team have been selected to represent Mercy at the North American Invitational Model United Nations (NAIMUN) in February. Delegates were chosen based on awards won and leadership in committee.
Erin Eusebi, Tori Noble, Jennifer Kenner, Anjali Alangaden, Carmela Sleva, Lucy Devine, Kelly Eusebi, and Katie Denton will spend Valentine's Day at our nation's capital along with 3,000 other high school students. Delegates not only flock to NAIMUN from across the country—the conference hosts a number of international attendees. Students from local schools in the area including University of Detroit Jesuit, Marian, and Brother Rice will also attend.
Over the weekend delegates are placed in a committee. Topics range from international security to civil and cultural rights. Some delegates will be revisiting the past in committees such as the the 1963 Civil Rights Leaders and 1940s Vietnam, and others will be confronting current issues. Through heated debate, negotiation, and collaboration, delegates are challenged to construct viable solutions to combat the issues presented to them.
Georgetown University, who manages the conference, also plans social events in the evenings including an Ethnic Bazaar-esque cultural festival and a delegate dance.
Check out the slideshow below for pictures from last year's NAIMUN conference.
[wzslider autoplay="true" lightbox="true"]