Coming Home for High School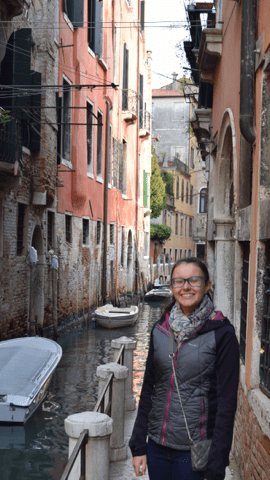 Many Mercy girls have had the opportunity to take trips outside of the United States, whether it was a school trip or a family vacation, but not many have had the chance to actually live outside of the country. But freshman Grace Fadollo and her family were given the amazing opportunity to live in Milan, Italy for two years before she came to Mercy High School.
Fadollo's dad is the general manager of one of the branches of a company called Borg Warner, and his job is to lead a team of people who design and manufacture parts for car engines. His job allowed him and his family to transfer to Milan, giving them the opportunity to experience what life was like overseas. Grace, her older brother, her older sister, her parents, and her dog, all moved to a small town outside of Milan where they lived for the two years of her dad's job transfer.
"There's a lot of differences," Fadollo said, as she compared living in the U.S. to living in Italy. "The people are a lot different. They are a lot more interactive with strangers. They enjoy having good times, they like to talk with everyone and be social, [and] they like parties."
Fadollo also pointed out many differences in the way Italians prefer to dine.
"Dinners are a lot longer and later," Fadollo explained. "They put a lot of emphasis on that and coffee. So coffee is not like Starbucks, where you can pick up your drink. You have to sit there and enjoy it."
Fadollo and her family got to spend lots of time traveling around Europe and Asia, exploring new countries and experiencing different cultures. Some of her favorite countries to visit were England, France, and Germany. She really liked the cultures she experienced and the people she met.
When she wasn't exploring new countries, Fadollo attended The American School of Milan. The school teaches in English and enrolls kids of 63 different nationalities, with about 50 kids per grade.
Part of living in a different country involves learning the language, so Fadollo was taught how to speak Italian in school. While she is not yet fluent, she has come to be very good at speaking the language and is able to get by in an Italian-speaking country.
"I like the language," said Fadollo. "I would love to be fluent in it one day. I wanted to come back [to Michigan] and keep taking lessons with an Italian teacher who's from Italy, so they're really fluent."
Fadollo and her family came back to Michigan less than two months before her freshman year began. Transitioning from living in Italy to living in Michigan was difficult for her, but she looked forward to becoming part of the Mercy family.
"My sister actually goes to Marian," Fadollo said. "She's a senior there. I never really wanted to go to Marian, and Mercy was just kind of the top of my school list. There wasn't a specific reason; it was just how I felt."
While Fadollo had an amazing two years living in Italy, she missed living in Michigan because Michigan is home."