Date nights around Detroit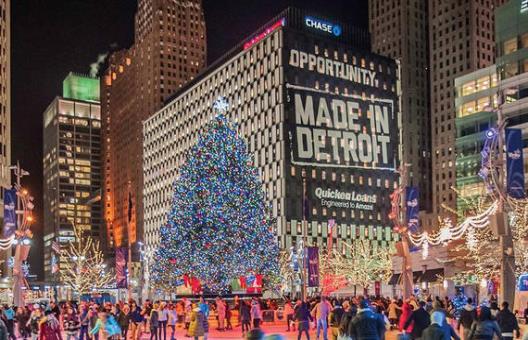 This holiday season, there are plenty of opportunities other than Mercy's Christmas Dance (or as it is affectionately called, A-ball) for Mercy girls to spend time with their significant others. Here are some cute date ideas to consider this winter.
1. Wild Lights at the Detroit Zoo
This winter, over five million LED lights will make trees, buildings, and more than 100 animal sculptures glow at night. Live entertainment, arts and crafts, and ice carving are just some of the planned activities. The zoo's new slide, the Polar Plunge, is also expected to be a popular attraction. The Polar Plunge is a 22-foot-tall, 150-foot-long slide, and costs $3 for a single ride or $12 for an "all-you-can-ride" pass (same night only). Refreshments, souvenirs, and pictures with Santa will also be available for purchase. The event runs from 5:30 to 9 on select nights, and is never cancelled, regardless of the weather. It is recommended to purchase tickets in advance because it may sell out. Tickets are sold in advance for $9 or $11 at the gate. Visit http://detroitzoo.org/events/zoo-events/wild-lights/ for more information.
2. Holiday Nights at Greenfield Village in Dearborn
Voted Top Holiday Event by USA Today and Reader's Digest, Greenfield Village will make you feel as if you're stepping back in time with the Ghost of Christmas Past. Take a lantern-lit walk through the village filled with carolers, holiday cooking, and costume presenters. Here, you can also go ice skating, take pictures with Santa and his reindeer, or watch a fireworks display. Horse-drawn carriages and Model T rides are available, too. Advance tickets are recommended, as the Dec. 11 and 12 nights are already sold out. The event runs from 6:30 to 10 on selected nights. For more information, go to http://www.thehenryford.org/events/holidayNights.aspx.
3. Campus Martius in Detroit
Bring your friends and family downtown to ice skate next to a decorated 60-foot-tall, Michigan-grown Christmas tree! Street performers, horse-drawn carriage rides, and picture opportunities with Santa will also be there on select nights. Tickets are $7 for seniors and children 12 or younger, and $8 for adults. Skate rental is $3. Until Jan. 2, the rink is open from 11 a.m. to 10 p.m. Monday through Thursday, 11 a.m. to midnight on Fridays, 10 a.m. to midnight on Saturdays, and 12 p.m. to 8 p.m. on Sundays. Ice skating will still be available with different hours from Jan. 3 to March 6. For more information on the park's upcoming events, visit http://www.campusmartiuspark.org/events/(park)/316.
4. Winter Wonderland at the Edsel and Eleanor Ford House in Grosse Pointe Shores
Walk through the Edsel and Eleanor Ford's estate under a more than 100 luminaries and 80,000 sparkling Christmas lights. You may also enjoy sipping hot chocolate next to a roaring fire, listening to holiday storytelling, making crafts, and taking pictures with Santa. Every Friday and Saturday night in December from 5 p.m. to 8 p.m., guests can stroll down the half-mile outdoor walkway. Tickets are $10, and for an extra $5, one can take a tour of the house decorated for the holidays, too. More information about the event can be found at http://www.fordhouse.org/events.
5. Nite Lites at Jackson County Fairgrounds
This year marks the 20th anniversary of Nite Lites in Jackson. This drive-through animated display is over a mile long, and is one of Michigan's largest Christmas light displays. The twinkling lights show onlookers scenes of reindeer, Santa, and Jesus' birth. It is $15 per vehicle. The event runs every day until Jan. 3 from 5:30 p.m. to 9 p.m. Sunday through Thursday and until 10 p.m. on Fridays and Saturdays. Live reindeer will also make an appearance on Dec. 11, 18,and 23. For more details, visit http://www.nitelitesshow.com.