Spring fever for guilt-free eating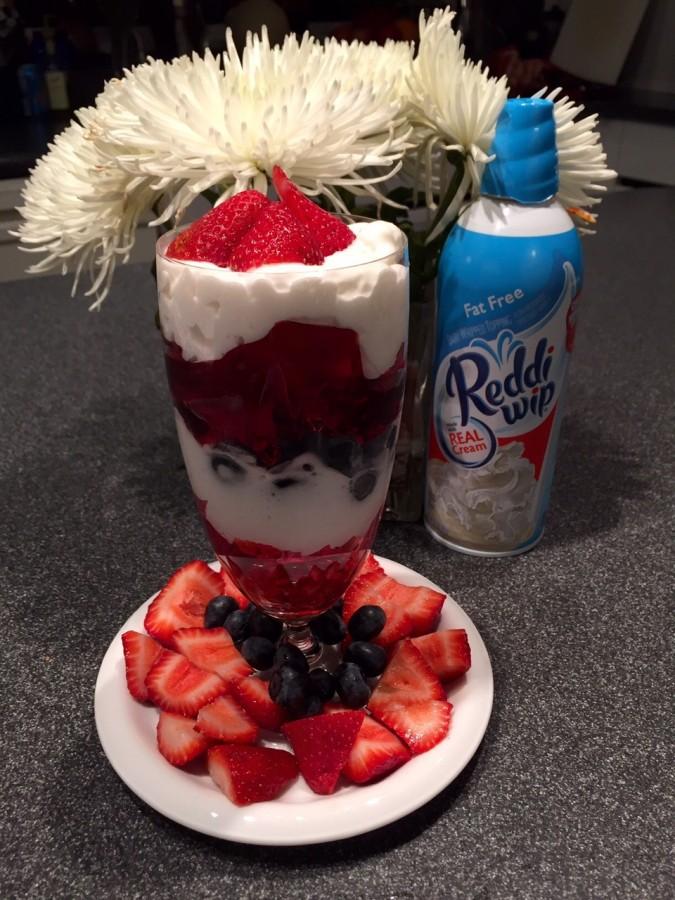 After a long winter of sugary comfort foods, spring has finally sprung. While cleaning and reorganizing this spring, many take the time to clean up their diet as well. But, why sacrifice yummy foods when the only greens that agree with you are the Caramel Apple suckers in the caf? Here are a few guilt-free options for those with both a sweet and savory tooth.
1. Sugar-Free Jello Fruit Parfait
This delectable option is sure to quench your sweet desires. At only a maximum of 92 calories, this snack will definitely leave you feeling satisfied and guilt-free.
"I love sugar-free Jello," said senior Mackenzie Zierau. "It was like the only thing I could eat when I got my wisdom teeth out, and I liked it so much that I bring it for lunch now."
Recipe:
1/2 cup of sugar-free strawberry Jello
1/2 cup of blueberries
1/2 cup of chopped strawberries
3 tbs of fat-free Reddi-wip
Nutrition Information:
92 calories
0.4 g of fat
12.5 g of sugar
21.1 g carbs
2. Carrot French Fries
While McDonald's fries are incomparable to just about any legendary junk food, there is a way to "recreate" them as a healthy alternative. Hungry Girl's Grin n' Carrot Fries give the illusion of a thick-cut french fry due to their crunchy outer shell and soft middle. This is a very simple snack to make. Just thickly cut carrots, sprinkle with salt and sugar, and place in an oven heated to 425 degrees. When finished, flip fries over and cook for another 15 minutes for a final crisp.
Recipe:
8 large carrots (peeled) and cut thick
1/2 tbs of sea salt
Non-stick spray for cooking sheet
(Hint: Add a pinch of sugar to bring out the flavor of the carrots. Yes, they do this with McDonald's fries but in a much larger quantity).
Nutrition Information:
116 calories
1 g of fat
13 g sugar
27 g of carbs
3. Frozen Hot Chocolate Dessert
Since winter and it's signature drinks are beginning to fade away, it is time to resurrect the ever-popular frozen smoothies. While fruit smoothies can be tasty, they tend to be high in both calories and sugar content. This frozen hot chocolate is easy to toss into a blender and grind up. Although winter is coming to a close, the desire for wintery drinks doesn't have to dissipate with the snow; just throw hot chocolate over ice in a blender to change it from a sit-by-the-fire drink to a sit-by-the-lake drink.
Recipe:
1 packet of Diet Swiss Miss (sensible sweets) cocoa mix
1/4 cup of light vanilla soymilk
2 pumps of Starbucks sugar-free vanilla syrup
1 tbs of Hershey's sugar-free chocolate syrup
1 cup of crushed ice
2 tbs of fat-free Reddi-wip
Nutritional Information:
58 calories
0.5 g of fat
5 g of sugar
10 g of carbs
4. Simple Egg White Omelet
It is said that breakfast is the most important meal of the day, but why just eat breakfast for breakfast? This nutrient-rich meal will satisfy just about anyone for any meal of the day. The trick with eggs is to always use the whites. The yolk of the egg has the highest concentration of fat and calories, and without it, an omelet doesn't taste much different. Many Mercy girls enjoy this new breakfast-for-dinner trend.
"After a long hockey practice, I love to come home to a nice healthy dinner," said senior Claire Lachner, "and sometimes I just have a craving for breakfast."
Recipe:
3 large egg whites
1/8 of a cup of low-fat, low-moisture mozzarella (about 40 calories)
4 slices of chopped Low Sodium Butterball Turkey Bacon
(Hint: This is paired well with a low-carb, low-calorie Spinach Tumaros Wrap and a few sliced cherry tomatoes for only an additional 75 calories).
Nutritional Information:
191 calories
11.2 g fat
0.7 g sugar
1.2 g carbs