Midnight golf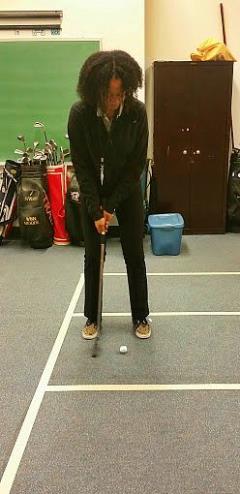 For many Mercy students, extracurricular activities are a part of daily life, but how many of them involve an interview processes? For seniors Ihechi Ezuruonye, Lyndsay Archer and Taylor Hutson, becoming a member of the Midnight Golf Program (MGP) required an interview rather than trying out or an audition. The name suggests otherwise, but Midnight Golf is not golf played at midnight. It is, however, a program that teaches a select group of high school seniors from all over the Metro Detroit area how to play golf.
Mercy students first heard about the program when Mercy alum and MGP mentor Ms. Summer Woods came as a guest speaker to a B.A.S.E (Black Awareness Society for Education) meeting last spring. She told students about how she became involved with the MGP and how playing golf earned her a college scholarship, but also led to numerous opportunities.
"Golf is a networking sport," said Ms.Woods. "It is not uncommon to meet a CEO of a company while on the golf course. It becomes a great way to break the ice."
Golf offers many scholarships for females. A majority of the time, a lot of those scholarships go unclaimed because not enough girls apply for them. Through the MGP, students learn the basic skills and proper techniques needed to play golf.
The program only accepts 130 students who are chosen based on their interview. This year saw one of the biggest turnouts in MGP history. Over 500 high school seniors were interviewed. Participants were told to dress up and submit a form answering why they wanted to be a part of the MGP. Students accepted  were contacted via email, and a list was posted on the MGP official website.
"I was very excited because I have known about midnight golf since the end of my sophomore year," said senior Lyndsay Archer. "My cousin was a part of it. He told me how family-oriented the program was, so I was really happy to have gotten in."
The program convenes every Monday and Wednesday at Marygrove College in Detroit. MGP utilizes the college's golf course as well as its classrooms. Although Midnight Golf teaches students how to play golf, it also teaches them college/work survival skills. The program has speakers ranging from financial experts and investors to college counselors and etiquette teachers. The program aims to create well-rounded individuals who will succeed when they enter the working world.
"I learn[ed] a lot of life skills that I wouldn't have otherwise learned until I was older," said Archer. "I got to meet a lot of different people that are professionals and successful who started out just like me. They show… young people that we can be anything, and we should aspire to be different."