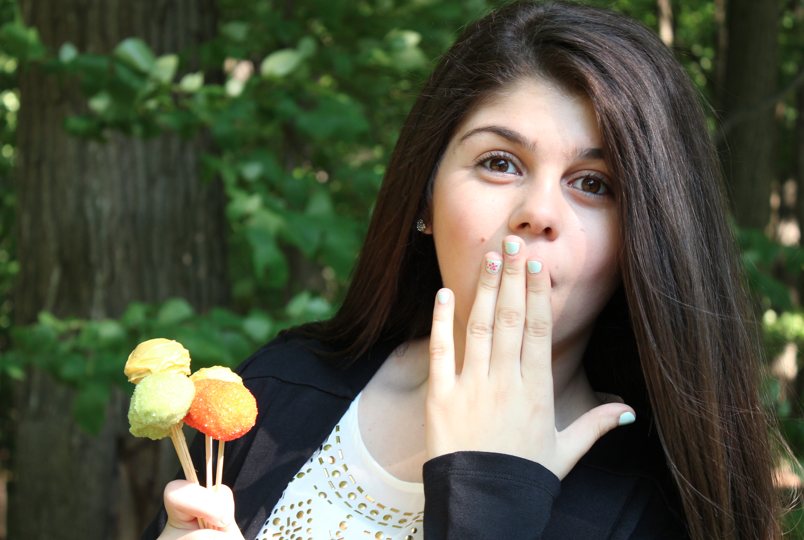 Sanan Malkadijan is usually seen in the hallways wearing a Lululemon headband, smiling ear to ear, juggling her Camelbak and Vera Bradley lunch box, and saying hi to everyone in the halls on her way to class.
What most people don't know is that her Vera Bradley lunch box contains not only her lunch, but products from her own business, Cake Pops in Heels.
The business specializes in cake pops.  Cake Pops in Heels was created in March, but the idea formed long before then.
"I went to pastry school throughout all of middle school," said Malkadijan. "I've been baking cake pops since fourth grade."
The true birth of cake pops began when Malkadijan went to Canada and made cake pops as a treat for her cousins.
"Ever since then, I've always been asked to make cake pops and bring them to a family event," said Malkadijan.
What is so good about Malkadijan's cake pops?   She says that hers are the best cake pops around town because she creates them with her own special recipe.
The process goes as follows:
Mix the special recipe
Bake the mixture
Crumble up the baked cake
Add a "secret ingredient"
Roll up the cake
Weigh each individual cake pop
Package and sell
Cake Pops in Heels receives orders through its email: [email protected]. Prices start at $1 and increase as the design becomes more intricate.
Malkadijan also brings Cake Pops in Heels to Mercy.  Every Thursday is "Cake Pop Thursday" and Malkadijan bakes up to 20 cake pops to pass out to students throughout the day.  She also has made cake pops for the varsity soccer team banquet.
"I love making people smile and I love making cake pops, so I decided to do both," said Malkadijan.