Missoni Zigzags into Target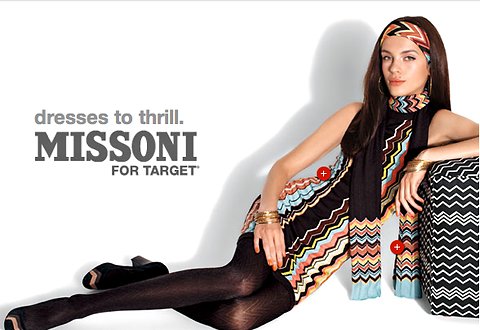 Fashionistas around the country went crazy for Target's new line of Missoni products just a few weeks ago. Although the line sold out after just the first days, many devoted shoppers are selling their Missoni items on eBay for higher prices.
Missoni is an Italian design house owned by the Missoni family. It was founded by Ottavio and Rosita Missoni in 1953 in Varese Italy. They still are a large part of the company along with their three children Vittorio, Luca, and Angela. The brand is known for colorful, knit patterns and geometric shapes as well as their use of many different fabrics.
The expensive Italian brand recently teamed up with Target to produce a line of low-cost items flaunting the colorful zigzags. The line featured hundreds of items including bikes, luggage, patio furniture, bedding, stationary, shoes, men and women's clothing, and much more.
Target shoppers everywhere went absolutely crazy. Some stores sold out completely after just a half hour. The stores were overcome with mayhem. Shoppers literally fought each other in order to get what they wanted.
The line of stylish goods was in such high demand that Target's website crashed multiple times on the day it was launched. Additionally, many people bought items from the line in bulk to resell on eBay. There are currently over 30,000 listings on eBay of these Missoni for Target items. Typically they are marked up about two or three times. One extreme eBay seller is selling a pair of rain boots for $31,000 which originally cost only $34.99.
Target's deal with Missoni is not a first for the all-purpose retail chain. In fact, Target has a history of teaming up with high-end designers. They have previously collaborated with designers like Zac Posen, Alexander McQueen, Rodarte, and Calypso St Barth. Despite all of these previous collaborations, however, Missoni's line of affordable, fashion-forward items has definitely been its most successful yet.