Five Fall Essentials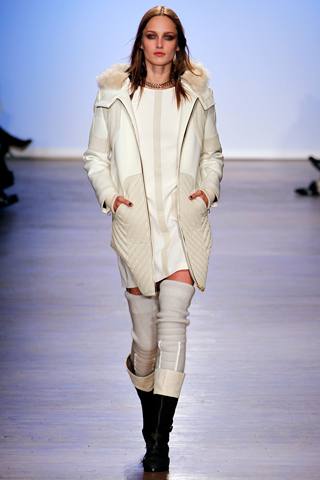 It's that time of year again ladies; fall is officially on our doorstep. Trips to the cider mill, Halloween candy, and Thanksgiving are just around the corner. Most importantly, fall brings an entirely new season with cold fronts instead of heat waves. That means closeting all of those tank tops and cut off shorts and dusting over your boots and warm coats. This year, fashion editors have already showcased a few key fall trends.
One of the first trends seen at many collections was sheer, from Louis Vuitton to Marc Jacobs. At Louis Vuitton, the models strutted the catwalk in maid-inspired ensembles. However, try to keep this trend appropriate. If the blouse is completely sheer, wear a lacy tank top underneath. Another trend was spots, literally. Models at Marc Jacobs were seen in head to toe polka dots. Try this trend in a skirt as the models did, and try fun colors instead of traditional navy or red.
For once, designers managed to consider weather in the fall trends. Alexander Wang, Altuzarra, and Rag & Bone created some of the best options. Maxmara, Mulberry, and many others created more luxurious options, some even featuring fur. Wear these parkas with either a bright, skinny pant or a cozy knit dress with boots and tights. Another trend seen on the runways was mixing colors. Color blocked ensembles were seen at Celine, 3.1 Phillip Lim, and Balenciaga. Don't be afraid to mix two bright colors with one neutral.
Finally, many designers sent extremely classic looks down the runway, most options featuring tuxedos. Make this look more adaptable to Mercy life by rocking a blazer. Balmain, Chanel, and Dolce & Gabbana got it right, and so should you.