Gateaux is a must-go
As its name might suggest, Gateaux is a French patisserie located in downtown Dearborn off Michigan Ave. Even its exterior created an elegant atmosphere, with its emerald green and gold sign and classy holiday decorations. I initially decided to try this patisserie because of the heated igloo located outside its doors, but I was pleasantly surprised that the rest of my experience was just as exciting as the igloo itself.
When I first entered Gateaux, a friendly employee greeted me. She asked if I had been there before and offered some suggestions when I told her it was my first time. Since there were no other customers in the shop at the time, I was able to place my order right away and then have time to admire the decor. It was obvious to me that whoever designed Gateaux put some serious effort into fine-tuning even the most minute detail of its interior. From the plush chairs surrounding the coffee tables to the artificial Christmas tree in the corner, everything in the shop was white, gold, or pale pink. This created a very pleasing aesthetic that added to the experience of being in a French bakery.
After I paid for my order, the same employee who greeted me led me to a table in the igloo outside with my desserts. Although it was chilly outside, the igloo was nice and toasty, thanks to a heater inside it. Even the igloo matched Gateaux's aesthetic, as it had pale pink flowers dangling from the top and fairy lights lining the outside. The only downside of eating in the igloo was that I could hear much of the traffic from outside, but this was a small price to pay for the fun experience.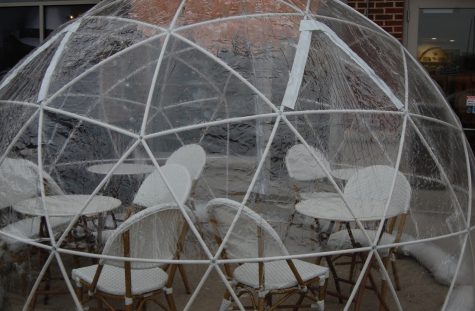 Once I decided that I had admired the decor long enough, I dug into my pastries. I ordered both a double chocolate petit cake and, Gateaux's best seller, Ispahan. Both pastries looked almost too good to eat. The cake was expertly frosted and garnished with a swirl of icing and chocolate pearls on top. It was served on a pink plate with a gold outline that somehow matched the cake itself. When I took my first bite, I was immediately pleased by the creaminess of the frosting. It was thick enough to be substantive and not too sweet like some frostings tend to be. The cake itself was incredibly moist and simply delectable. The chocolate flavor was not overpowering, which enabled it to blend well with the flavor of the frosting. I even found that the cake got better and better with every bite.
Next, I tried the Ispahan. This dessert consisted of two delicate pink macarons with rose buttercream on the inside, a touch of raspberry jam in the center, and fresh raspberries around the entire dessert. I was slightly leery to try this pastry, as I am not a huge fan of macaroons, but I was pleased to find the Ispahan just as tasty as the chocolate cake. The outside of the macarons were perfectly crunchy while the inside was spongy and soft. Furthermore, the buttercream filling was a perfect consistency and, like the cake frosting, not overpoweringly sugary. The raspberry garnish provided an enjoyable texture and authenticity to this pastry, as did the raspberry jam filling. All of these ingredients combined created a muted, but still exceptional flavor.
All in all, these pastries were some of the best desserts I've had in my life. They had the perfect amount of flavor: not too intense but also not too bland. My only complaint would be that their prices are a bit steep as I paid $6 for each of my pastries. That being said, each dessert could easily serve at least two people, and their high quality is worth the price. From start to end, eating at Gateaux was delightful, and I would go back in a heartbeat.