Concert review: Imagine Dragons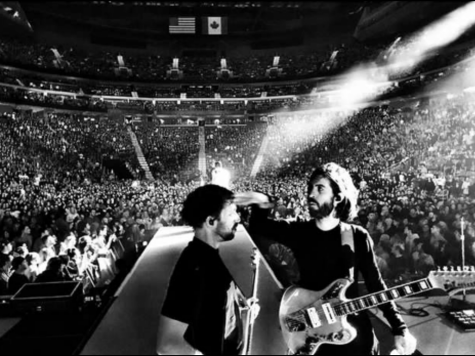 Neon lights lit up the brand new Little Caesar's Arena in Detroit on October 19 as the five members of Imagine Dragons walked to the front of the stage. They opened their concert by singing "I Don't Know Why," an upbeat, edgy song from their new Evolve album. Lead singer Dan Reynolds wrote most of the Evolve album after coming out of a serious state of depression.
The new Evolve album is refreshing and the rock band's phenomenal performance reflects the emotion they have poured into all three of their albums. The hit song "Believer" on the Evolve album was inspired by difficult times in Reynolds' life, influenced by his experiences with both anxiety and depression.
The band did not disappoint, as this was truly an excellent concert. Imagine Dragons performed 20 songs, all from different albums. The lighting was very colorful, representative of the rainbow on the Evolve album cover. Large, lit-up, triangle-shaped props sat behind the band as they performed, creating a modern, unique look onstage.
Another smaller stage was set up on the opposite side of the arena, on which the band sang four songs, one being a cover of the late Tom Petty's song, "I Won't Back Down." Singing on both sides of the arena gave fans a good view of the band no matter where they were sitting. The band also transitioned to the other stage by walking through the crowd while shaking fans' hands and giving hugs, showing their gratitude towards the concert-goers.
Imagine Dragons kept fans entertained by mixing up their setlist, as they sang some of their slower songs and some fast-paced, upbeat songs. The sound in the arena was very high quality as well and the band did not miss a beat the whole night.