The one with Netflix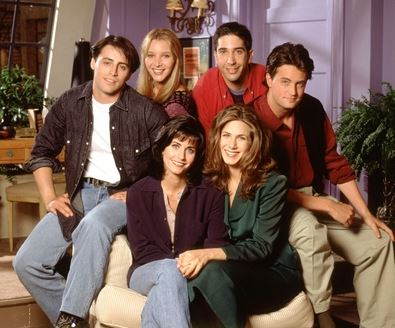 The popular television show Friends is now appearing on the screens of those with Netflix accounts.
In October 2014, Netflix announced that all 236 episodes (10 seasons worth) would be available for immediate online streaming beginning on Jan. 1, 2015.
The sitcom, which follows the lives of Rachel Green (Jennifer Aniston), Monica Geller (Courteney Cox), Phoebe Buffay (Lisa Kudrow), Joey Tribbiani (Matt LeBlanc), Chandler Bing (Matthew Perry), and Ross Geller (David Schwimmer), depicts the journey of the best friends as they manage love lives, jobs, and friendship in New York City.
The series acquired many loyal fans during its ten year reign on NBC from 1994-2004. Ever since the first Friends episode aired, the iconic "I'll Be There for You" intro jingle has brought smiles to the faces of many.
Senior Emily Gates, a long-time fan of the show, is thrilled that all the episodes are now available on Netflix.
"I [first] watched all 10 seasons in 2 and a half weeks freshman year, and I've always watched it whenever it's on TV," said Gates. "But when I heard it was coming to Netflix, I almost threw a party. I've watched about a season and a half in 5 days."
Although all 10 seasons are available on DVD, Netflix gives fans the convenience of watching the 22-minute episodes on their tablets, smartphones, Apple TVs, PCs, or video game players rather than switching between 40 DVD discs.
According to Forbes, Netflix will also feature several unseen episodes that are not available for viewing anywhere else. Additionally, due to the rescanning of the episodes by Warner Bros., Friends is available on Netflix in both widescreen and HD formats.
When the series finale aired in 2004, 52.5 million viewers tuned in to watch the final chapter of the lives of the six best friends.
"There are very few shows that can actually make me laugh out loud," said Gates. "I love Friends more than anything…[it] never fails to make me laugh."